Fighting Hunger at Mines wins 2019 Mayor's Award for Excellence
The student group was awarded the Gold Mine Award at the Golden Mayor's 2019 Community Celebration on October 30.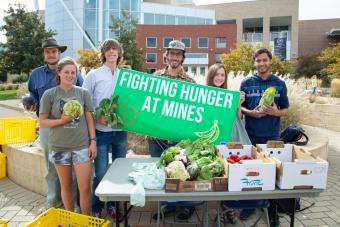 Fighting Hunger at Mines, a student organization dedicated to addressing food insecurity at Colorado School of Mines, received the Mayor's Gold Mine Award at the 2019 Golden Community Celebration on October 30.
The award recognizes a campus organization that has contributed greatly to making a difference in the Golden community.
In a campus survey earlier this year, Fighting Hunger at Mines found that nearly 50 percent of students skip meals every month due to lack of food or money. More than a quarter of students will skip more than five meals per month. And 15 percent of students go without eating for more than one 24-hour period each month. They also found that missing meals was primarily due to financial stress, limited time, lack of knowledge about resources on campus or healthy food preparation.
Fighting Hunger at Mines provides students with accessible and healthy food options on campus. Every week, the organization distributes free, healthy food to nearly 150 students. They also educate students about available programs and resources, and host cooking events to teach students about cheap, healthy meal preparation.
The organization takes their efforts beyond campus by partnering with local organizations such as the Golden Backpack Program and Hunger Free Golden to address food insecurity in Golden.
Learn more about Fighting Hunger at Mines by following the organization on Facebook and Instagram.