Evody Tshijik Karumb: "Being a student at Mines in the metallurgical department has enabled me to work with some of the most renowned people in the field."
Likasi, Democratic Republic of Congo
PhD Candidate, Metallurgical and Materials Engineering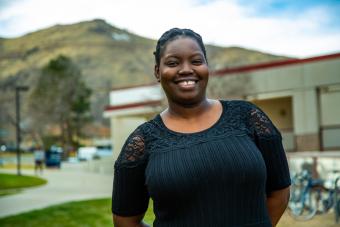 Why did you choose to come to Mines? What have you enjoyed most about being here?
Mines was referred to me as one of the best schools for extractive metallurgy, and that was indeed the truth. Being a student at Mines in the metallurgical department has enabled me to work with some of the most renowned people in the mining, metallurgical and recycling field. I was never fond of big cities, so the geographic location of Mines is perfect for me. Also, I love Colorado weather in all its weirdness. One other very important thing I love about Mines is the people. I honestly can say that I have gotten into complications more than once, but the staff has always been able to find a solution that redirected to the right track in a timely fashion. For that, I am very grateful.
Tell us about something you're working on right now that you find exciting, fulfilling or challenging?
Right now I am working on my networking skills. Being a true introvert, it has always been very difficult to interact with people. I am the type of person who enjoys being in the lab all day, then Netflix and relaxes at home. To better thrive in society and in the world, one needs to be able to socialize. Consequently, I have taken upon myself the challenge of increasing the chances of striking up a conversation with people. The first step is to reduce the use of headphones on public transportation. Every now and then there is someone eager to share a story, and I am a good listener. I am still struggling with taking it further, where I am the one to start the conversation, but I am slowly getting there. I love the challenge. It is beneficial not only for me as a person, but it will also be an asset during my career.
What are your plans for the future? What's your dream job?
My plan is to land a job in the metallurgical field. I would love to increase my competence in the actual field to add to my research capabilities. The biggest dream in my life is to one day own and operate a metallurgical research facility in my home country. I don't know how long it will take, but for now, I know that I need to get the skills that will allow me to achieve the dream.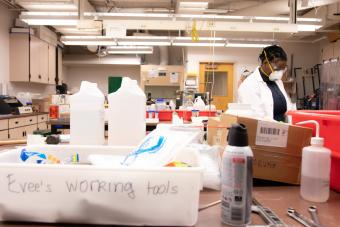 What would you tell someone interested in joining your academic program or Mines in general?
To the prospectives mines students, I would recommend taking their time choosing their major. The reason why I am saying this is because for the freshmen and sophomore years, students take distant core classes, and for the early junior year, they can take classes in the many departments that interest them to see what fits. This gives them plenty of time to make a decision, albeit not always a final decision, so they can relax. School is already tough enough so they should relieve stress as much as they can.
Should the students be interested in the metallurgical program, the process is the same. In this case however, the choice is between physical metallurgy (work in the steel industry), welding, extractive metallurgy (mining, and recycling sector), ceramic, biomaterials; and nuclear engineering. As undergraduate students, they will have the choice to take some classes related to each discipline offered in the department and further their knowledge in them. A word of advice though, if the students know they will continue on with graduate school in metallurgy at Mines, and they know which discipline they will specialize in, then I would suggest taking classes in a discipline other than the graduate discipline. The rationale is that they will have to take classes related to their discipline in their masters or PhD program either way, so they might as well take an interest in some other discipline to keep their knowledge of metallurgy broad enough.
What's your favorite thing to do outside of class and coursework? How do you unwind, manage stress, find fulfillment, etc.?
I am teaching myself how to play the guitar and keyboard. When I was stressed after a failed experiment, I found I wanted to relax with music. but did not know how to play, so I picked up the guitar and keyboard. I am no expert, but I sure do love the be able to play for eight minutes straight.
That soothes my mind and I feel really good and optimistic.
Tell us something about you that most people would be surprised to learn?
Uhm... that's a good question given that I am pretty much an open book. I believe one of the things I have found out surprises people I meet for the first time, is the fact that I am actually Congolese. Most of them think I am either Ghaneen, Nigerian or South African. I gotta say it makes a good introductory conversation.