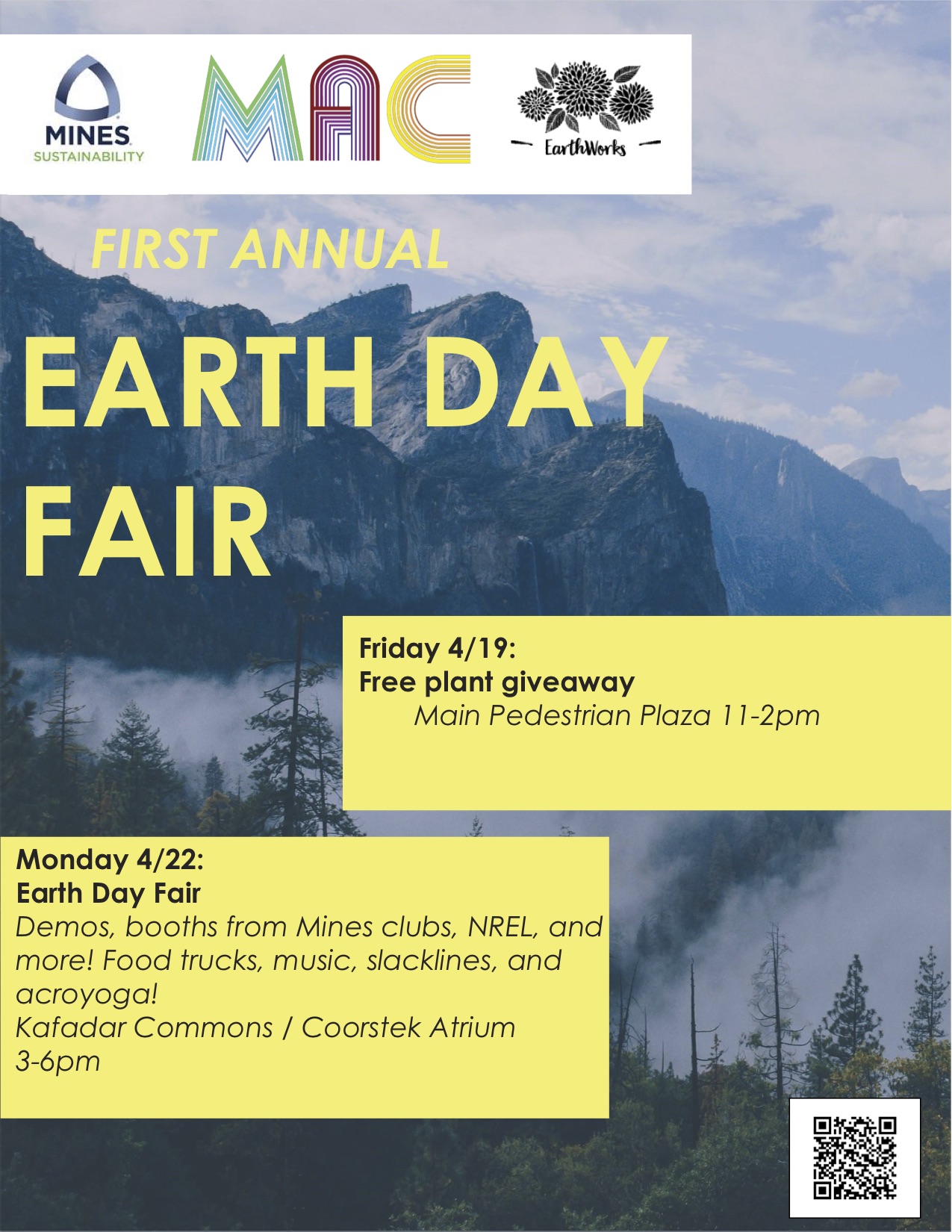 Do you know what one-seventh of a metric ton of carbon dioxide looks like? Check out the
Mines Earth Day Fair
on Monday, April 22 to find out.
The Mines Sustainability Committee, Mines Activities Council and EarthWorks are hosting the free sustainability celebration from 3 p.m. to 6 p.m. in Kafadar Commons and the CoorsTek atrium. 
Student clubs and faculty will be showcasing projects and sustainability-related coursework, and there will also be green chemistry and composting demos, a waste audit/recycling relay, music and slacklines. 
The aforementioned "Carbon Cube" that illustrates one-seventh of a metric ton of carbon dioxide – built by McKinstry and Mines students – will be on display, as will a fuel cell car from the National Renewable Energy Laboratory.
Food trucks will be slinging snacks starting at 4 p.m., with free $2 food tickets available for participating in some activities. 
Other Earth Day events include:
4:30-5 p.m.: Climate change talk with Physics Research Assistant Professor Xerxes Steirer, CoorsTek Atrium
5-6:30 p.m.: "The Ethics of Solar Geoengineering," a Daniels Fund Program lecture from Marion Hourdequin, environmental philosopher and associate professor at Colorado College, Hill Hall 204
6 p.m.: Movie night "From Seed to Seed," Brown Hall W280
On April 24, the Mines Career Center will also host an Energy Efficiency and Renewables Career Networking Panel from 5 p.m. to 7 p.m. in Berthoud Hall rooms 241 and 243.
To kick off Mines' celebration of Earth Day, EarthWorks is holding a free plant giveaway from 11 a.m. to 2 p.m. Friday, April 19 on the main pedestrian plaza.
CONTACT
Emilie Rusch, Public Information Specialist, Communications and Marketing | 303-273-3361 | 
erusch@mines.edu
Mark Ramirez, Managing Editor, Communications and Marketing | 303-273-3088 | 
ramirez@mines.edu