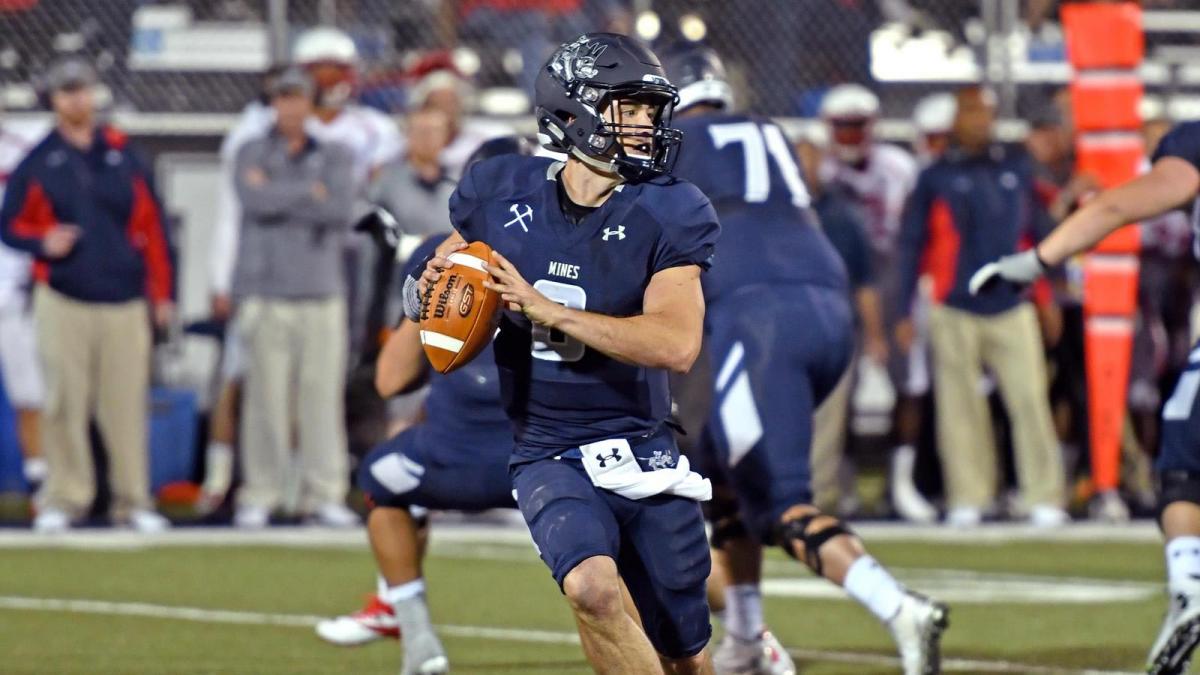 Harlon Hill Trophy Release/Vote Totals
FLORENCE, Ala. - Colorado School of Mines quarterback Justin Dvorak has won the 2016 Harlon Hill Trophy as the best player in NCAA Division II football.
Dvorak earned 185 points on 95 ballots, including 48 first-place votes, to win. Northwest Missouri State quarterback Kyle Zimmerman was second with 113 points, and North Alabama quarterback Jacob Tucker third with 86. Dvorak will be presented with the trophy on Jan. 6 at a ceremony on the campus of the University of Northern Alabama, Hill's alma mater.
The award was announced less than an hour after Dvorak earned his B.S. in petroleum engineering during Mines' winter commencement ceremony. The record-setting quarterback led Mines to a share of the RMAC title with 10-3 record this year and an appearance in the NCAA Championship Second Round, matching the longest season in program history. Dvorak is the second Oredigger to win the trophy, joining Chad Friehauf (2004).
"This trophy is an individual award but it's yours just as much as it is mine," Dvorak told a packed room of family, teammates, and coaches after the announcement. "I'm glad to bring the Harlon Hill back to Mines." The Hill Trophy was the capstone on an exceptional career for Dvorak. He set RMAC and Mines records in passing yards (13,466), total offense yards (14,608), and passing touchdowns (134), the latter mark ranking second all-time in D-II.
In 2016, he earned virtually every honor a player could including D2CCA National Offensive Player of the Year, AP First-Team Little All-America, NFFCC Colorado Offensive Player of the Year, and RMAC Offensive Player of the Year. He leads NCAA Division II with 4,584 passing yards and 53 touchdowns, rushing for eight more. His 380.2 total offense yards per game ranks second in D-II and his 172.4 rating is sixth. Dvorak also leads the nation with 366 points responsible for.
Dvorak is the third RMAC player to win the honor along with Friehauf and two-time winner Danny Woodhead of Chadron State. Austin Ekeler of Western State was also a 2016 finalist, finishing eighth in the voting.
The Hill Trophy is named for a former University of North Alabama player - the late Harlon Hill - who was a standout with the Lions from 1950-53 before going on to fame in the National Football League with the Chicago Bears. The award is sponsored by the City of Florence, Herff Jones, the Marriott Shoals Hotel and Spa and the University of North Alabama.
This article first appeared on MinesAthletics.com.