Delmar Hermann: "The skills and experiences I gained within the co-op helped me grow and reach my dream job."
Big Bend, Wisconsin
Geological Engineering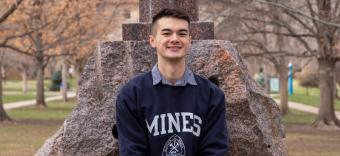 Why did you choose to come to Mines? What have you enjoyed most about being here?
The campus location, community and professors were outstanding for my target degree. The thing I have enjoyed the most while being at Mines were the connections I was able to make.
Tell us about something you're working on right now that you find exciting, fulfilling or challenging?
Currently working through the geological engineering track with a focus on geotech at the senior level. The engineering geology and geotechnics course is the most fulfilling and challenging course I have in this semester. It is tough because there are lots of deliverables and a tight schedule, however, the content of the course is relevant to my career goals.
Have you done an internship or co-op or been in a professional job while at Mines? Tell us who you worked for and what you were doing. What stands out?
I participated in a 14-month co-op with Michels Corporation between my junior and senior year. I assisted in geological estimation for construction purposes. It was an amazing experience as I was able to apply what I learned at Mines to industry. The skills and experiences I gained within the co-op helped me grow and reach my dream job.
What communities, groups or organizations—on- and off-campus—are important to you and why?
On-campus I have supported and run the Mines Anime club for five years. The networking opportunities and friendships I have made within the club will last me a lifetime. I believe it is important to support a community and allow it to grow. I believe I was able to leave the club in a better position than it was when I joined.
What are your plans for the future? What's your dream job?
I plan to continue learning about geotechnical engineering with an emphasis on construction. My dream job is one with balanced office and field commitments while contributing to the world's infrastructure. I strive to offer value to a wide range of companies both in construction and in geotechnics with what I have learned at Mines and in industry.
What would you tell someone interested in joining your academic program or Mines in general?
If you are interested in geological engineering, Mines offers one of the best undergrad programs in the world for such a degree. The tools and skills Mines teaches you how to use, the supportive faculty and teaching staff and excellent location of Golden are all overwhelming positives for this campus.
What's your favorite thing to do outside of class and coursework? How do you unwind, manage stress, find fulfillment, etc.?
Meeting up with friends from all around and catching up with them. It became clear to me how much less you see people once you enter industry, so I value connecting with old college acquaintances. I find it exciting to see where people end up, and where you might find others re-entering your world unexpectedly as co-workers or competitors.
Tell us something about you that most people would be surprised to learn?
I have lived in Taiwan for multiple years of my life. During that time I learned about the culture overseas and how people live on the other side of the world. It has given me the opportunity to reflect upon all the positives of living in the United States, and better understand all that we take for granted here.