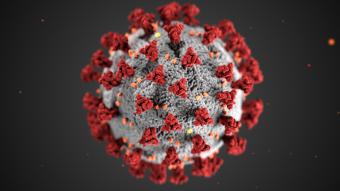 The global pandemic caused by the novel coronavirus SARS-CoV-2 has impacted nearly every aspect of our lives this year.
Yet opportunities exist to improve the current situation, whether a direct result of the COVID-19 pandemic or ensuing from mitigation efforts and responses to the pandemic – a fact that Mines students demonstrated through the creative and varied pandemic mitigation solutions they presented in the virtual Fall 2020 Cornerstone Design Final Competition.
Winning the semester-long design challenge – and the $1,000 grand prize – was a solution to improve adherence to COVID-19 capacity limits in restaurants, retail stores and other spaces.
Team Null's Automated Capacity Monitor would use machine learning and motion detection to automatically keep track of the number of patrons inside a limited capacity environment. The ACM would provide instant text and email notification when an establishment was nearing capacity, replacing the need to have an employee stationed at the front door. Forming the winning team were Grant Baldwin, Michael Hills, Andrew Smith, Noble Thachiyath and Andy Yu.
Second place and $500 went to Wuhan Clan, which proposed an autonomous well leak sensor that would allow oil and chemical plants to remain fully operational by eliminating the need for human monitoring of wells. Team members were Kagan Giltinan, Alperen Ugus, Ivan Martens, Jack Burnham and Matthew Galasso
Third place and $250 went to Baby Flying Avocados for a foot-activated door opener that would eliminate the need to touch door handles in public spaces. Team members were Gavin Graff, Sephia Lazzarino, Connor McGovern, Collin Bugash and Dane Schuler.
The SME Top Pick Award, a special prize given by the semester's subject matter experts, and $250 went to Aescula, for their hands-free device that pairs a hand sanitizer dispenser with an infrared thermometer that scans the user's wrist. Team members were Yan Ostanin, Michael Leoni, Ethan Adam, Jack Jones and Evelyn Garcia.
Required for all Mines undergraduates, Engineering, Design & Society's Cornerstone Design I is a semester-long hands-on, human-centered and open-ended design project course where student teams must investigate, define and solve their own problem within a given topic or problem space. The final competition pits the top project idea from each of approximately two dozen class sections against each other.