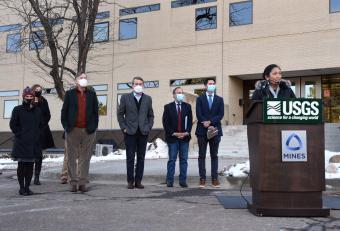 GOLDEN, Colorado (Feb. 18, 2022) – Colorado School of Mines officials welcomed U.S. Secretary of Interior Deb Haaland to campus on Friday, Feb. 18 as part of her tour of the U.S. Geological Survey's Geologic Hazards Science Center.
During her visit, Haaland and members of Colorado's Congressional delegation announced that Mines will be the location of a new energy and minerals research facility for USGS being made possible by funding from the Bipartisan Infrastructure Law. 
The partnership between Mines and USGS goes back more than 40 years, with the USGS Geologic Hazards Science Center and its National Earthquake Information Center already calling the Mines campus home.
The new facility will be located on campus at 18th and Cheyenne streets, on the site of a parking lot that currently serves the Geologic Hazards Science Center. USGS energy and minerals researchers will work alongside the university's geoscience and energy professors in the new building.
From Mines President Paul C. Johnson: 
"We are excited to be expanding the U.S. Geological Survey presence on the Colorado School of Mines campus. The combined expertise of our two organizations will make Golden, Colorado, the epicenter of knowledge, research and education related to earth, energy and the environment. The soon-to-be-built world-class energy and minerals research facility will be the central hub for Mines-USGS collaborations on the critical mineral and energy challenges of our day, and it will also provide an unparalleled educational opportunity for our students to work and learn at the cutting edge of research and technology development with both Mines and USGS experts. We look forward to welcoming our USGS colleagues to campus, and thank our Colorado congressional delegation, especially Rep. Ed Perlmutter, for their efforts to make this once-in-a-lifetime opportunity a reality."