Colorado School of Mines, University of Regina sign Memorandum of Understanding
Agreement between the two universities establishes framework for collaboration on research, student and faculty learning and professional experiences, and more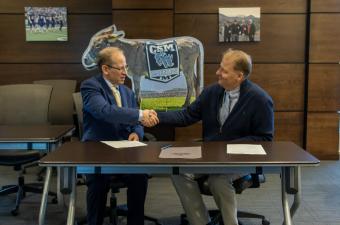 The University of Regina and Colorado School of Mines have signed a memorandum of understanding (MOU) agreeing to collaborate on research, business and academic opportunities to build on their shared commitment to energy and environmental resource sustainability.
"We are excited to enter into this agreement with Colorado School of Mines as it formalizes our desire to collaborate in helping sustainably address energy needs in both the United States and Canada," said University of Regina President and Vice-Chancellor Dr. Jeff Keshen.
"The relationship between Colorado School of Mines and University of Regina has great potential to make a difference for the world, building upon the strengths and synergies of our universities, and our partnerships in the United States, Canada and around the world," said Colorado School of Mines President and Professor Dr. Paul C. Johnson.
The MOU establishes a framework for collaboration on multiple fronts, including research, student and faculty learning and professional experiences. Those experiences are anticipated to include joint research proposals and projects, joint appointments and visiting scholars, student and faculty exchanges, joint and dual degree programs and courses, and graduate programming, research and student support.
The two universities also outlined a number of research priorities that align with both institutions' core strengths and strategic interests:
Nuclear science and engineering
Carbon capture, utilization, and storage
Sustainable mining and critical minerals technologies
Clean water innovation
Hydrogen and alternative fuel technologies
It also confirms a commitment to collaborate on philanthropic arrangements and to jointly develop funding opportunities to advance the above activities.
About the University of Regina
The University of Regina—with campuses located on Treaty 4 and Treaty 6 territories, the ancestral lands of the Cree, Saulteaux, Dakota, Lakota and Nakoda nations and the homeland of the Métis—is a comprehensive, mid-sized university that traces its roots back to the creation of Regina College in 1911. Today, more than 16,000 students study within the University's 10 faculties, 25 academic departments/schools, 18 research centres and institutes, and three federated colleges (Campion College, First Nations University of Canada, and Luther College). The University of Regina has an established reputation for excellence and innovative programs that lead to undergraduate, master's, and doctoral degrees.
About Colorado School of Mines
Colorado School of Mines is a public university focused on science and engineering, dedicated to educating and inspiring students, advancing knowledge, and innovating to address the great challenges society faces today—particularly those related to earth, energy and the environment. Founded in 1874 with specialties in mining and metallurgy, Mines' scope and mission have expanded to meet the needs of industry and society, producing distinctive graduates and revolutionary innovations, and becoming a world leader in advancing sustainable use of the Earth's resources. Learn more at mines.edu.
MEDIA CONTACTS
Emilie Rusch, Director of Communications, Colorado School of Mines, erusch@mines.edu, 303-273-3361
Everett Dorma, University Advancement & Communications, University of Regina, Everett.Dorma@uregina.ca, 306-565-8608