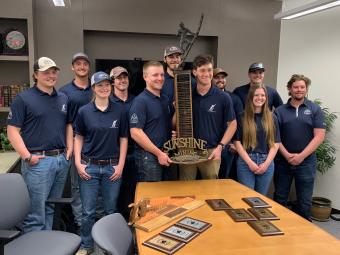 A team of students from Colorado School of Mines was named world champions at the 44th Intercollegiate Mining Competition. 
The Mines team of seniors Jim DesRochers, Isaiah Heims and Vince Matuszak and sophomores John Dill and Will Colvin won first place in the men's division of the international competition, hosted at Missouri University of Science & Technology earlier this spring. 
At the competition, men's, women's and co-ed teams from the U.S., England and Australia competed head-to-head in seven events inspired by traditional mining techniques: mucking, handsteel, swede saw, trackstand, jack leg, surveying and gold panning. 
The competition was started in 1978 to commemorate the 1972 Sunshine Mine disaster in Idaho, which claimed the lives of 91 miners. 
Trinity Kelly, president of the Mines Intercollegiate Mining Competition Team, said the men's squad is already training to defend its world title in 2023. 
"Being able to compete in-person for the first time since 2019 made the 44th Intercollegiate Mining Games even more exciting," Kelly said.  
Kelly, a junior majoring in mining engineering, competed on Mines' co-ed team, along with junior Mark Peirce, sophomore Josh Tweedel, senior Porter Johnson, junior Kalev Wade and freshman Jen Kinch. 
"Getting involved with the Mining Competition Team is a great way to be part of a tight-knit community with a strong team atmosphere while competing in a unique activity with a meaningful history," Kelly said.
Fellow Mines students can try their hand at gold panning, hand steeling, swede sawing and jackleg drilling this weekend during the 88th Engineering Days. The Mining Competition Team is hosting the E-Days Mining Games from 8 a.m. to 12 p.m. Saturday, April 23 in Lot Q. No experience is necessary.