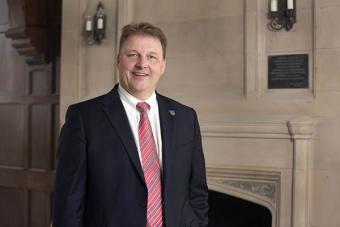 Colorado School of Mines has named Richard C. Holz its next provost. Holz is currently dean of the Klingler College of Arts and Sciences at Marquette University and will join Mines in June 2019.
As provost, Holz will serve as Mines' chief academic officer, responsible for leading the faculty and staff to achieve the vision for the university's academic programs. He will work closely with President Paul C. Johnson and other members of the executive cabinet, providing leadership on strategic initiatives that ensure that Mines is a top-of-mind and first-choice university for top engineering and science students, industry partners, and world-renowned faculty and staff. 
"We are excited to have Rick join Mines as our next Provost," Johnson said. "Rick brings skills and experience that we identified as critical to achieving our MINES@150 strategic plan – he is a great listener and is entrepreneurial, he highly values impactful teaching, research and industry partnerships and he has experience and new ideas related to expanding the reach and impact of our unique programs. This is an exciting time to be joining Mines as we look toward our 150th anniversary in 2024 and work to position Mines for its next 150 years of success and global impact."  
At Marquette, Holz led the largest of the university's nine colleges and schools, guiding 12 academic departments, 40 undergraduate majors, 14 interdisciplinary programs and 18 graduate degree programs. During his tenure as dean, he oversaw the establishment of five new entrepreneurial centers of excellence – including the Northwestern Mutual Data Science Institute, made possible by a $6.25 million corporate donation – launched multiple innovative interdisciplinary degrees and more than tripled the number of student internship opportunities.
Prior to joining Marquette in 2013, Holz spent seven years at Loyola University Chicago, where he served as associate dean for resources and planning in the College of Arts and Sciences (2011-2013) and as chairman of the Chemistry and Biochemistry Department (2006-2011).
"I am extremely honored to join such an accomplished faculty at a world-class university," Holz said. "Mines has such a bright future and I can't wait to begin working with faculty, students and alumni to bring the university's strategic plan to fruition and raise the profile of Mines to the next level."
A bioinorganic chemist by training, Holz's research work focuses on structure/function studies of metalloenzymes, including the design, synthesis and characterization of small molecules that function as potent inhibitors. He continues to maintain an active research group and is currently funded by the National Science Foundation. 
Holz holds a PhD from Pennsylvania State University, MS from University of Minnesota-Duluth and BS from Bemidji State University, all in chemistry. He was a National Institutes of Health postdoctoral research fellow at the University of Minnesota from 1989 to 1992 and a faculty member at Utah State University from 1992 to 2006. 
Thomas Boyd has served as Mines' provost since 2015. In June, he will move into the role of associate provost through the end of 2019 to support Holz in the transition, after which Boyd plans to retire. 
Boyd has been at Mines for 30 years, serving postdoctoral and research faculty appointments before being hired as an assistant professor in the Department of Geophysics. After receiving tenure, he progressed into administrative positions, including associate graduate dean, graduate dean and associate provost.
"I want to thank Tom Boyd for his outstanding service to Mines," Johnson said. "During his four years as provost, we have hired amazing faculty, seen the growth of new degree options and research programs, launched our first fully online degree program, seen increases in student graduation rates and created new professional development opportunities for our academic faculty and staff. Mines would not be where we are today without Tom's leadership and dedication."