Colorado School of Mines marks start of new academic year with mix of in-person, remote instruction
Sesquicentennial Class of 2024 takes their seats, promised "one hell of a graduation ceremony"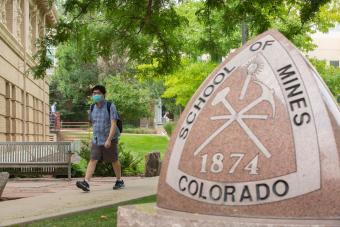 Colorado School of Mines welcomed students back to campus today – with face masks and social distancing required – for the first day of the 2020-21 academic year.
The majority of fall courses (54 percent) are being taught in-person or via a hybrid approach (20 percent) that blends regular in-person and remote instruction. The remainder of courses are being offered fully remote or online. Students also had the option to pursue their studies 100 percent remotely.
New students welcomed to campus last week
The majority of Mines' newest undergraduate class elected for some in-person coursework and many moved into on-campus residence halls last week. Each new class usually begins their Mines journey by climbing up Mount Zion to place 10-pound rocks on the M that shines over Golden. This year, new students instead placed their rocks on a hillside near the intramural fields until they can be properly relocated.
The class will graduate in 2024 — the year of Mines' 150th anniversary. It was a detail that President Paul C. Johnson underscored at this year's live-streamed Convocation ceremony on Thursday, August 20.
"I know many of you missed out on your high school graduation," Johnson said. "So I'm going to promise you one hell of a graduation event in 2024."
Health and safety measures in place across campus
On Monday, Mines students, faculty and staff were greeted by a comprehensive spectrum of health and safety measures intended to help limit the spread of COVID-19 among the Oredigger community as much as possible.
Nine pandemic recovery teams led Mines' COVID-19 response and preparations over the summer, based on the latest guidance from the U.S. Centers for Disease Control and Prevention, Colorado Department of Public Health and Environment and Jefferson County Public Health.
As part of that effort, all Mines students and employees are required to complete online COVID-19 safety training and make a shared commitment, via The Oredigger Promise, to protect themselves and others in order to open campus and be together at Mines this year.
Among the other health and safety measures now in place:
Face masks are required inside all university facilities and outdoors whenever at least six feet of social distancing cannot be maintained – including campus sidewalks.
Classrooms, offices, dining areas, Arthur Lakes Library, study lounges and the Student Recreation Center have been reconfigured to promote social distancing.
Mines has partnered with COVIDCheck Colorado to provide regular COVID-19 testing of all on-campus residents, as well as employees who work closely with students on a regular basis. 
A rapid response team has been launched to work closely with local public health officials to identify and alert close contacts and take actions aimed at limiting potential spread whenever a Mines community member gets sick.
Community members with confirmed and presumed COVID-19 cases can quickly report their illness to campus officials through an easy-to-access online portal.
Residential and office density on campus has been decreased to allow additional distancing and in the case of residence halls, provide space for student quarantine and isolation, if needed.
Cleaning protocols have been enhanced to include twice-daily cleaning and disinfection of high-traffic surfaces and classrooms by custodial staff, as well as daily cleaning of other campus areas.
Classroom, office and residence hall HVAC systems have adjusted to better facilitate air flow in line with ASHRAE recommendations for pandemic operations.
For more information about Mines' pandemic preparation and operations, go to mines.edu/coronavirus.