Colorado School of Mines to launch Upward Bound Math Science Program
Students at Lakewood's Alameda International Jr./Sr. High School will receive support through federally funded college prep program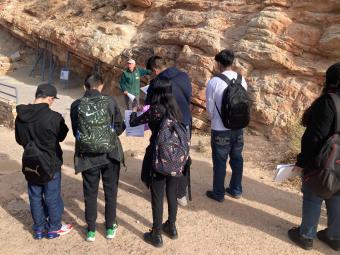 Colorado School of Mines and Jeffco Public Schools' Alameda International Junior/Senior High School are launching a new federally-funded college preparatory program to encourage more low-income and first-generation students in Colorado to continue their post-secondary education by helping them strengthen their skills in math and science. As part of the program, two Mines employees will be embedded at Alameda, leading instruction and activities on site for 60 students.
Funded by the U.S. Department of Education's TRIO Programs, Upward Bound Math Science (UBMS) at Mines will provide academic support, test and college preparation, and summer programming for high school freshmen through seniors interested in science, technology, engineering and math to prepare them for post-secondary studies. This is the first federal TRIO program administered by Mines, one of the top STEM universities in the U.S.
"Mines is excited to play a vital role in Alameda student success and even more excited to see these students go on and be successful in college," said Lori Kester, associate vice provost of enrollment management. "As the top STEM institution in the state, Mines has an important role to play in encouraging more students from all backgrounds to pursue secondary education in STEM, here at Mines or at any other institution of higher education in the Centennial State. Through this new program, Mines is taking a big step forward in leading the charge on how to help high school students with math and science."
"We are thrilled to partner with Colorado School of Mines to increase future opportunities for our students," said Susie Van Scoyk, principal of Alameda International Jr./Sr. High School. "This partnership exemplifies Jeffco's commitment for all students to graduate with the knowledge and skills for postsecondary life – this includes exploration of career, academic and postsecondary opportunities; academic, technical and professional skill development aligned with business and industry needs; and matriculation and postsecondary workforce success."
From August through May, the programming will include a daily advising class taught by the UMBS coordinator focused on academic and career guidance, tutoring, hands-on learning experiences through field trips and cultural events, and grade-specific workshops on student success topics, including ACT/SAT test prep, college applications and financial aid. During the summer, Upward Bound students will attend a free six-week residential program on the Mines campus, where they will stay in Mines residence halls and receive instruction in mathematics, chemistry, biology, physics, earth science, foreign languages, English composition and literature, in addition to student success topics.
"We at Mines are very excited to begin working with the students and staff from Alameda," said Justin Shaffer, teaching associate professor of chemical and biological engineering. "We have faculty and students from many departments and programs at Mines, including Quantitative Biosciences and Engineering, Civil Engineering, Physics, and Student Life, who will be hosting workshops, giving tours and welcoming the Alameda students to the Mines community."
The effort to win the TRIO grant was spearheaded by Mines alum Kurtis Griess (BS '08, MS '10).
"As a former director of an Upward Bound Math and Science program and an alumnus of Mines, I am thrilled about this opportunity for Mines to impact underrepresented, low-income and first-generation students," Griess said. "Mines is the ideal university for this program with its world-class programs, faculty and staff. I can't wait to hear about the ways Mines' UBMS program changes lives and brings opportunities to the high school students it will serve."
About Colorado School of Mines
Colorado School of Mines is a public university focused on science and engineering, dedicated to educating and inspiring students, advancing knowledge, and innovating to address the great challenges society faces today—particularly those related to earth, energy and the environment. Founded in 1874 with specialties in mining and metallurgy, Mines' scope and mission have expanded to meet the needs of industry and society, producing distinctive graduates and revolutionary innovations, and becoming a world leader in advancing sustainable use of the Earth's resources. Learn more at mines.edu.
About Jeffco Public Schools
Jeffco Public Schools (Jeffco) is located in Jefferson County, Colorado. It is the second largest school district in Colorado serving 69,000 students across 155 schools. With 14,000 employees, the district is the largest employer in Jefferson County and has provided educational excellence for more than 70 years. Jeffco embraces the spirit of the West and the natural beauty of the Rocky Mountain region with the county spanning more than 770 square miles running the length of the western edge of the Denver metropolitan area. The district is diverse in both population and geography, from urban to rural, including the mountain communities in the foothills west of Denver. Overall, Jeffco has 31% of students that qualify for free and reduced lunch, an indicator of poverty, and 34% minority (25% Hispanic) student population. The district is implementing a new strategic plan, Jeffco Thrives 2025, that is focused on providing a world-class education that prepares all Jeffco students for bright and successful futures as local and global citizens.
Learn More about Superintendent Tracy Dorland, Deputy Superintendent Dr. Kym Lablanc-Esparza and Jeffco Cabinet Leadership.
MEDIA CONTACTS
Emilie Rusch, Director of Communications, Colorado School of Mines, erusch@mines.edu, 720-432-5203
Media Relations Office, Jefferson County Public Schools, media@jeffco.k12.co.us, 303-982-6808