Colorado School of Mines welcomes students for start of 2023-24 academic year
About 1,623 first-year and transfer students joined the Oredigger community this fall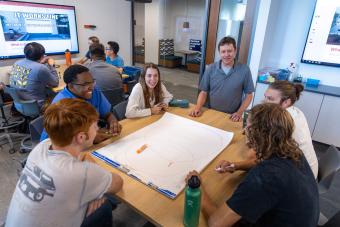 Colorado School of Mines welcomed students back to campus today for the first day of the 2023-24 academic year. 
About 1,623 first-year and transfer students are enrolled at Mines this fall. Incoming first-year students arrived on campus last week, beginning their Mines journey with the M Climb up Mount Zion the morning of Aug. 18. 
The 2023-24 academic year marks an important milestone for the university, which will celebrate its 150th anniversary in 2024. MINES@150 celebrations are planned throughout the calendar year 2024. 
Other highlights include:  
Mines Athletics is also poised for another strong showing this year after last year's historic campaign that included an NCAA Division II Championship (Dillon Powell, men's cross country) and Mines' first-ever berth in the NCAA Division II Football Championship. Football begins its season Aug. 31 ranked No. 2 in the nation. Women's soccer joins football as pre-season favorites in the RMAC. Read more at minesathletics.com.