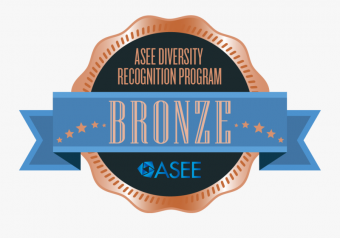 Colorado School of Mines has been recognized by the American Society of Engineering Education for its work to improve diversity, inclusion and access on campus.
The ASEE Diversity Recognition Program has awarded Mines its bronze level distinction. ADRP was created to publicly recognize those engineering and engineering technology colleges that make significant, measurable progress in increasing the diversity, inclusion and degree attainment outcomes of their programs. 
Mines was one of 21 universities and colleges determined to meet the requirements of Bronze Level status during the Fall 2020 application cycle. 
Among the requirements for ASEE recognition are a commitment to: 
Establishing baseline support for groups underrepresented in engineering 
Quantifiably analyzing and assessing unit composition, policies, culture, and climate related to all groups underrepresented in engineering. 
Implementing programs and initiatives that strengthen the K-12 or community college pipeline thereby reducing significant barriers related to long-term growth. 
Developing an action plan focused on continuous improvement.
Colorado School of Mines is committed to creating and supporting a diverse and inclusive campus environment that inspires creativity and innovation by learning with and from people with different backgrounds, thoughts and experiences.
In February 2019, Mines officially released its Strategic Plan for Diversity, Inclusion and Access to help make progress toward these goals. The priorities outlined in the plan have spurred a mentoring program, an ambassador program to help provide diversity and inclusion workshops on campus, numerous events, resources and more.