Colorado School of Mines graduates had higher-than-average outcomes after graduation
Mines Career Center's latest annual report found that Mines graduates have overwhelmingly positive outcomes after graduation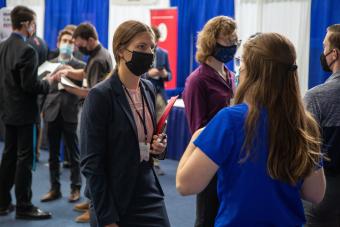 Despite graduating during an ongoing pandemic and entering a challenging workforce requiring hybrid skills and flexibility, Mines alumni are still making positive strides and reporting higher-than-average outcomes, according to the latest annual report from the Mines Career Center.
"We are happy to report that career outcomes, both in first destinations and starting salaries, remain strong, a testament to the enduring value of a Mines degree and the tireless work of the Career Center staff in preparing students and reporting the data," said Wendy Winter-Searcy, director of the Mines Career Center.
Positive outcomes reported to the Career Center include graduates committed to their first destination, including jobs in industry, government and military service, and those going to graduate school, as well as international students returning to their home countries.
For the Class of 2021, 92 percent of a record 1,585 total graduates saw positive outcomes. Graduates had an average starting salary of $76,000 and 18 percent continued with advanced education.
Bachelor's degree recipients had an overall similar outcome to the entire Class of 2021, with 92 percent reporting positive outcomes. Many of those students stayed close to Golden—58 percent of bachelor's degree graduates accepted job offers in Colorado. And of the students who pursued graduate school, 87 percent did so at Mines.
The report also checked in on bachelor's degree graduates from the Class of 2019-20 and how they're faring 18 months later. For those graduates, 98 percent had positive outcomes, up from 95 percent at the time of graduation.
Data on master's and PhD recipients from August 2020, December 2020 and May 2021 were also included in the report. These students also saw high rates of positive outcomes, at 92 percent of master's degree graduates and 96 percent of PhD graduates. Class of 2019-20 graduate students continued to thrive, with 98 percent of master's degree students (up from 96 percent at graduation) and 100 percent of PhD students (up 99 percent from graduation) having found success after leaving Mines.
The Career Center has been busy the last couple of years, helping students prepare for their time after Mines amid a global pandemic. The team pivoted to virtual services during the 2020-21 academic year and continues to offer virtual recruiting and services along with the twice annual in-person Career Day. For the period covered in the report, the Career Center had more than 4,000 students and alumni use their services. Interest from recruiters looking to hire Mines graduates stayed strong, with 710 organizations posting 4,335 jobs in DiggerNet, the campus recruiting system. The Career Center also held 107 employer information sessions and 60 student professional development workshops throughout the year. While rates are slightly lower from last year, Winter-Searcy noted that Mines graduates are still seeing more success than the average college graduate.
"Our outcomes are well above the national average, so despite a slight dip from last year, Mines graduates are doing exceedingly well," Winter-Searcy said.
View the full report, with detailed breakdowns of the sectors Mines graduates enter and average starting salary by industry, at: https://www.mines.edu/careers/wp-content/uploads/sites/43/2022/01/Career-Center-Annual-Report-2020-21_R4-optimized.pdf