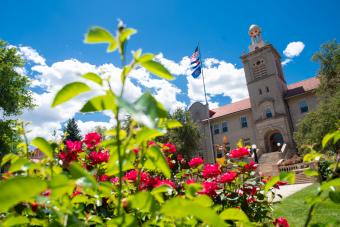 Amidst a volatile economy and a challenging time for universities nationwide, Colorado School of Mines raised $70.4 million in fiscal year 2020 – the most money ever in a single year. The gifts from Mines alumni, friends, and corporate and foundation partners support areas of strategic importance to Mines future, including student debt reduction, developing leaders, preparing the next generation of entrepreneurs, innovators, and business leaders, and continuing to produce distinctive graduates.
"We feel very fortunate to be so well-supported by our 30,000 alumni, friends, and industry partners at a time when many schools are struggling," said Paul C. Johnson, president and professor at Mines. "Their investments reflect their passion for Mines, gratitude for how well Mines prepared them for success in their careers, and the desire for others to have similar opportunities. These investments also reflect their belief in the benefits of an education that values a strong work ethic, resilience, hands-on-activities and collaboration. They are excited by the vision for Mines' future and want to be part of it."
Fundraising highlights for July 1, 2019 to June 30, 2020:
The largest single gift ever – $30 million – from Bruce Grewcock '76 and his wife, Debra, to establish the leadership-focused Grewcock Presidential Scholars Program
A $10 million gift from an alumnus to build a state-of-the-art engineering Innovation Complex
A $4.5 million gift from Mike and Kelly Beck to support the Beck Venture Center business incubator
A major gift from Rob McKee '68 and his wife, Ann, to endow a new scholars program aimed at reducing student debt
A nearly $2 million gift from the Mines Alumni Board to support alumni programming
A $1.5 million gift from the Mines Foundation to the university to support projects that accelerate progress toward the university's strategic plan
Nearly $200,000 in support of students and staff impacted by COVID-19
"For a campus of 6,000 students, we punch well above our weight and garner a level of generosity that is our margin of excellence," said Brian Winkelbauer, president and CEO of the Mines Foundation. "We are grateful to our alumni for supporting Mines' excellence during this challenging time for our students and their families, the state and other members of our community."
The MINES@150 Strategic Plan is re-focusing the university community on interdisciplinary, hands-on learning, investments in scholarships and growing a culture of entrepreneurship and innovation while maintaining and growing its excellence in academic departments and programs.
About Colorado School of Mines
Colorado School of Mines is a public university focused on science and engineering, dedicated to educating and inspiring students, advancing knowledge and innovating to address the great challenges society faces today—particularly those related to earth, energy and the environment.
Founded in 1874 with specialties in mining and metallurgy, Mines' scope and mission have evolved to meet the needs of industry and society, producing distinctive graduates and revolutionary innovations, with impact to the energy, aerospace, civil infrastructure, defense, IT, health and earth resource industries.