Colorado School of Mines designated Hunger Free, Healthy Minds campus by state of Colorado 
Designations recognize Colorado universities, colleges for their work to promote student success beyond the classroom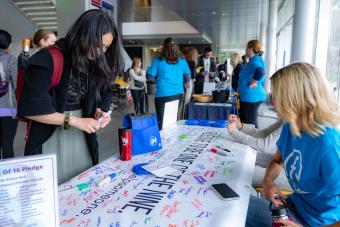 Colorado School of Mines is one of nine Colorado universities and colleges that has been recognized with both the Hunger Free and Healthy Minds campus designations from the Colorado Department of Higher Education. 
Established in 2021, the CDHE designations recognize Colorado institutions of higher education for their work to end hunger and address the mental health needs of their students. 
Mines officially received both designations in 2022, in recognition of the campus' efforts to promote student success beyond the classroom through the implementation of best practices in mental health services and food security.  
"The programs we have in place are designed to support students' academic success at Mines – access to food and healthcare, including mental health support, is critically important," said Braelin Pantel, vice president of student life. "These designations honor the work that's been done within our community to prioritize salient student services and supports in these important domains of wellbeing."  
To achieve the CDHE designations, schools must have in place six focused initiatives, two each in the areas of awareness, access and prevention (Healthy Minds)/integration (Hunger Free), as well as four core programs.  
For the Hunger Free checklist, the core programs are running a campus food pantry, providing SNAP food benefit enrollment help and collecting and reporting data on food insecurity. The core programs for the Healthy Minds checklist are providing mental health services information on syllabi and student IDs, offering prevention programs with the intention of improving mental health and connecting students with online mental health support and community resources. Both require schools to hold one awareness event per year related to food insecurity and mental health, respectively.  
The checklists were created in consultation with representatives from institutions of higher education – including students – nonprofits and state agencies to ensure they included student-centered programs that met the capacity of schools.  
At Mines, among the programs and initiatives recognized by the designations are: 
Blaster's Basket, the on-campus food pantry, moved to an expanded location in the Ben Parker Student Center in Fall 2021.  A second location is planned as part of the Village at Mines Park project.  

Fighting Hunger at Mines, a student-run organization, distributes free food and organizes cooking classes on campus to reduce food insecurity and promote healthier eating habits  
Fresh Check Day, an interactive mental health fair featuring food, entertainment and prizes, is organized annually by the Office of Student Wellness Promotion and Betsy's Friends Peer Educators. The 2023 event is set for March 1.  

Every Oredigger, a campuswide mental health and suicide prevention initiative, launched in 2019 and has since grown to encompass all of the dimensions of wellbeing. 
For more information about the Hunger Free and Healthy Minds designations, go to highered.colorado.gov/social-determinants-of-student-success.