Colorado School of Mines to celebrate 2021 E-Days on April 15-18
This year's hero-centric theme, Save the CitE-Days, is an ode to Colorado's frontline workers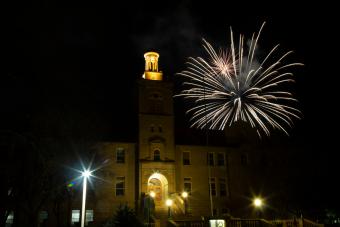 Colorado School of Mines will celebrate its 2021 Engineering Days – better known as E-Days – on April 15-18 with a mix of in-person and virtual events in line with current state and county health and safety guidelines.
This year's festivities, Save the CitE-Days, have a hero-centric theme intended as a shoutout to Colorado's frontline workers.
The Mines Activities Council is working closely with university leadership, Jefferson County and the city of Golden to ensure all in-person E-Days activities adhere to the very latest COVID-19 guidance and restrictions. Mines is not relaxing its event guidelines in any way to allow E-Days to proceed.
"We are so excited to be able to hold E-Days in person this year after last year's last-minute switch to remote activities in the early days of the pandemic," said Dan Fox, vice president of student life at Colorado School of Mines. "We have learned a great deal since April 2020 and we believe we can safely offer an in-person E-Days experience this year, with strict compliance with all state, county and campus guidelines."
Among the health and safety guidelines that will be in place for all in-person E-Days events:
All attendees must have proof of a negative COVID-19 test taken the week of April 11. Mines has offered an on-campus testing program this academic year through COVIDCheck Colorado. 

Masks must be worn at all times unless actively eating or drinking. 

All food from food trucks will be pre-packaged and individually wrapped. 
All beverages will be served in single-serve bottles. No reusable cups. 

Equipment used in games and activities will be sanitized between uses. 

Professional staff will be monitoring events for compliance with health and safety measures, and to ensure masks are being worn at all times. 

And while E-Days is traditionally an event where Mines welcomes the larger Golden community to join in, this year's events are limited to Mines students only. That includes Saturday's popular cardboard boat races on Clear Creek. However, Mines does encourage the Golden community to join in watching the fireworks on Saturday, April 17 from the comfort of their own homes. It will be an all-aerial show, so city residents should be able to view the show from various locations around Golden.
"We look forward to welcoming the community back to share in our campus traditions in 2022," Fox said. "E-Days is a bedrock of Mines' signature student experience. Since 1934, Mines students have put aside the stress of studying every spring to celebrate what it means to be an engineer and our unique Mines history, traditions and unflappable Oredigger spirit. Mines is committed to providing opportunities for our community to come together safely – even and especially because of the challenges of the past year."
Save the CitE-Days will be held Thursday, April 15 through Sunday, April 18. For a full listing of E-Days events, go to http://www.minesactivitiescouncil.com/edays.