Colorado School of Mines breaks ground on new classroom building, parking garage
The 50,938-square-foot classroom building at 17th and Arapahoe streets is expected to be completed in late Fall 2024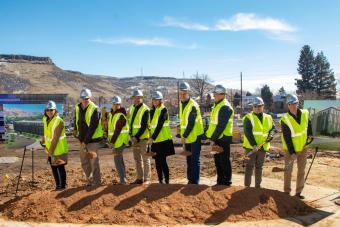 Colorado School of Mines officials celebrated the groundbreaking of the university's newest classroom building and parking garage in a ceremony March 2.
Located at the corner of 17th and Arapahoe streets, the four-story, 50,938-square-foot classroom building will be home to nine new classroom spaces that support an active learning environment, including a large lecture hall. The building will also feature faculty offices and graduate student work spaces, as well as huddle rooms and breakout rooms for independent study.
Attached to the building will be Mines' second parking garage, with approximately 870 parking spaces for the campus community.
"This project is another key piece to the implementation of our MINES@150 Strategic Plan," said Kirsten M. Volpi, executive vice president and chief operating officer of Colorado School of Mines. "This facility not only provides immediate relief to the need for more classroom and office space on campus, but it also provides a foundation for the future development of the 18th Street research corridor."
Construction is expected to take 18 to 24 months, with the building expected to be substantially completed by late Fall 2024. The general contractor on the project is G.H. Phipps Construction, and the building was designed by OZ Architecture of Denver.  
The building will be equipped with solar panels and the parking structure will include a capacity-sensing system to alert drivers to available parking spaces. The garage will also be outfitted with electric vehicle charging stations. 
The classroom building is the second construction project to get underway on the site of the former parking lots between 17th and 18th streets. The first project, directly to the east of the new classroom building site, is the Beck Venture Center set to open this fall.