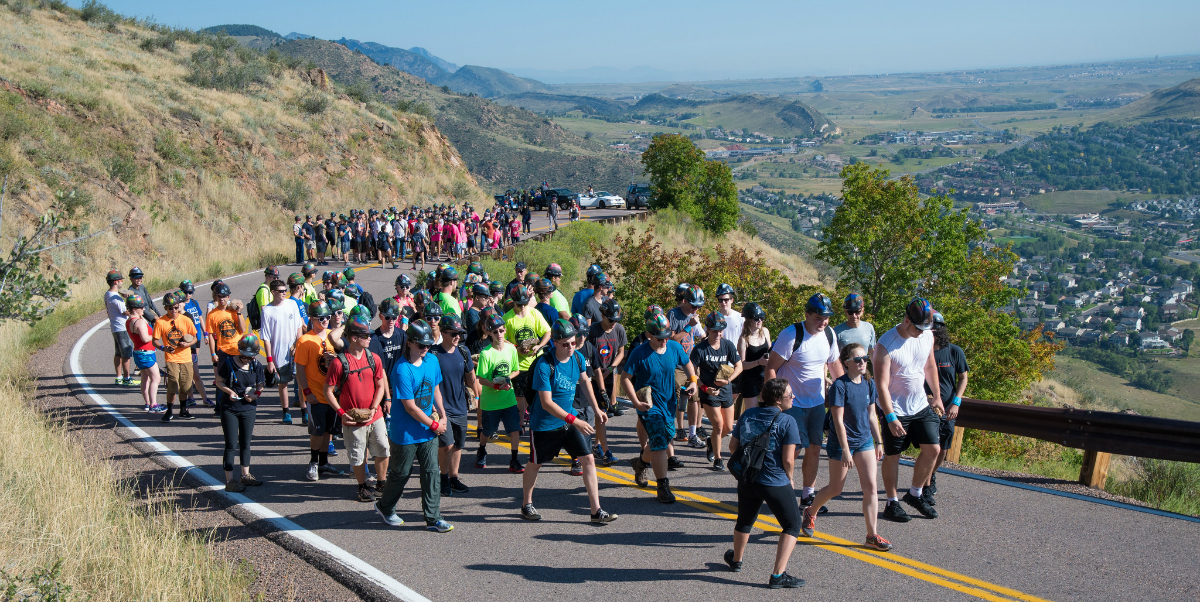 It was 110 years ago this year that Colorado School of Mines students and faculty built a monument on Mount Zion, loading a supply train of burros and packing their way up.
Now it's time for the next generation of Orediggers to make their own trek up the mountain, carrying 10-pound rocks from their hometowns to whitewash and add to the mountainside M.
The 2018 M Climb will be held the morning of Friday, Aug. 17, with Mines President Paul C. Johnson and other faculty and staff joining first-year students in the traditional climb.
This year's freshman class again marks the largest in Mines history. The school received 13,281 applications for the 2018-2019 academic year and will welcome about 1,380 new freshmen and transfer students to campus this week.
Facts and stats about the Mines Class of 2022: 
 31 percent women
 22.5 percent underrepresented domestic ethnic or racial groups
6 percent international students
1397: Average SAT composite score
31: Average ACT composite score
3.8: Average high school GPA (on unweighted 4.0 scale)
47 states, the District of Columbia and 16 countries represented
Top 5 U.S. states outside Colorado: Texas, California, Washington, Illinois and Arizona
Top 5 countries outside U.S.: Saudi Arabia, Malaysia, Kuwait, China and Nigeria
​​The M Climb will kick off around 7:35 a.m. on the South Intramural Fields on Elm Street with members of Blue Key Honor Society spray-painting the hard hats of new students. Students will walk to 19th Street, cross over U.S. 6 and then begin their climb up Lookout Mountain Road to the M. After the climb, students will be bused back to campus for a barbecue on the North Intramural Fields.

During the M Climb, Lookout Mountain Road will be closed to public access above the arches until 1 p.m. Friday.
CONTACT
Emilie Rusch, Public Information Specialist, Communications and Marketing | 303-273-3361 | erusch@mines.edu
Joe DelNero, Digital Media and Communications Manager, Communications and Marketing | 303-273-3326 | jdelnero@mines.edu