Chemical engineering senior to present research on Capitol Hill
Kristen Hietala, a senior majoring in chemical engineering, has always been interested in the natural environment around her.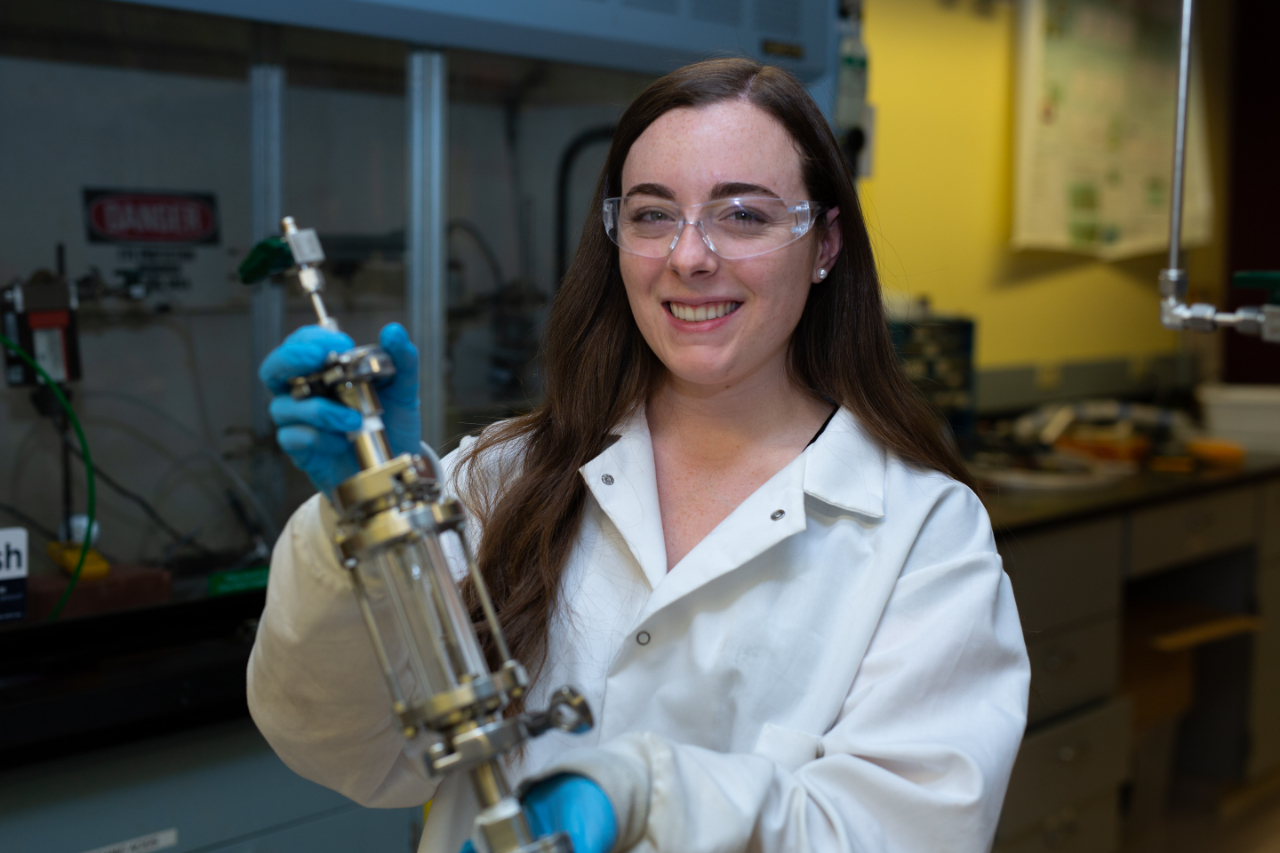 "When I was little, I used to get Ranger Rick, a kids nature magazine," she said. "Ever since I was little, I've loved being outdoors and doing camps."
So, working on renewable energy research as an undergraduate at Mines just made sense, she said.
"I just wanted to do something with my career that helps protect the environment," Hietala said. "The research I'm doing is related to energy storage – that's the biggest challenge to doing 100 percent renewables. We don't have a good way to store solar, wind, energies that are intermittent."
Hietala will be traveling to Washington, D.C., later this month to present her research to members of Congress and their staff members during the 23rd annual Posters on the Hill event.
She was one of 60 presenters nationwide chosen to participate in the prestigious two-day event, sponsored by the Council on Undergraduate Research.
Hietala's research, under the direction of Chemical and Biological Engineering Professor Colin Wolden, is focused on the scaling up of a "green" chemistry technique for producing lithium sulfide nanocrystals, an important component for next-generation solid-state batteries.
"Lithium sulfide can be used on batteries that have a higher theoretical capacity than lithium ion batteries that are currently in your phone and laptop," Hietala said. "My work has been to develop a way to scale up the production method, potentially to an industrial scale. I've been working a lot on reactor design and the parameters for scaling up that reaction."
Hietala has been working in Wolden's lab since the summer after her freshman year. Last summer, a paper she lead-authored, "Scalable Synthesis of Alkali Sulfide Nanocrystals Using a Bubble Column Reactor," was published in the journal Industrial & Engineering Chemistry Research.
"While many undergraduates in my lab have been co-authors on papers, Kristen is the only one to first-author an archival journal publication," Wolden said.
"That was pretty exciting," Hietala said. "A lot of research is getting bad results but bad data is still data. If you decide to test something, you may find out it might not affect what you thought it would." 
Wolden said Hietala's work developing bubble columns as a platform for scalable synthesis of the nanocrystals was also instrumental in efforts to secure a $380,000 grant from the National Science Foundation to expand Mines' research on the topic.
"Kristen has been a valued investigator in my laboratory for three years," Wolden said. "After starting out as a lab assistant preparing solutions, I tasked her with evaluating new reactor designs to make these nanomaterials more efficiently. She is truly deserving of this opportunity to represent both Mines and the state of Colorado at the Council on Undergraduate Research events on Capitol Hill."
It will be a busy couple of weeks for Hietala, between Posters on the Hill at the end of April and graduation May 10. She's already accepted a job in Kansas City as a consulting analyst in Accenture's consulting development program. 
"It's been really great to have Dr. Wolden as a mentor throughout my entire academic career, and undergraduate research really gave me something to focus on," Hietala said. "I started as a freshman and didn't know that much chemical engineering. I've learned things in the lab that I can apply in class, and as I take more classes, I know more about my research. It's been really nice to have a project to apply the skills that I've learned."