Colorado School of Mines faculty and researchers in the Metallurgical and Materials Engineering Department—Assistant Professor Geoff Brennecka and a team led by Professor Ryan O'Hayre—are being honored by the American Ceramic Society.


O'Hayre and his team will receive the American Ceramic Society's Ross Coffin Purdy Award for a paper that appeared in the September 18, 2015, edition of Science.
 
The paper, titled "Readily Processed Protonic Ceramic Fuel Cells with High Performance at Low Temperatures," focused on the development of affordable and efficient ceramic fuel cells that could be used to power homes.
 
It was based on more than five years of research to develop a new, higher-performance ceramic-based fuel cell device that might eventually be used to generate both electricity and hot water for residential households from natural gas. In addition to drastically increasing efficiency through reducing transmission losses, such a reliable, environmentally friendly distributed power technology would help guarantee greater energy security while also reducing energy costs for consumers.

The research team, which includes Mines graduate student Chuancheng Duan, former research professor Jianhua Tong, former postdoctorate researcher Meng Shang, former graduate student Stefan Nikodemski, research faculty Michael Sanders and Sandrine Ricote, as well as Ali Almonsoori of the Petroleum Institute in Abu Dhabi, is still actively pursuing follow-up research, and hopes to present another high-impact paper in the near future.

"I'm excited about this honor for my students and colleagues, including Chuancheng, who works tirelessly in the lab on this research," O'Hayre said. "It is great to see it pay off for him and our entire team."
 
"We are continuing to study the long-term durability of these cells when operating on different fuels, and so far our results have been exciting," O'Hayre said.

The team will receive the award at the American Ceramic Society's Honor and Awards Banquet in Pittsburgh this October. In addition to accepting the award, O'Hayre has also been invited to give a talk at the society's conference.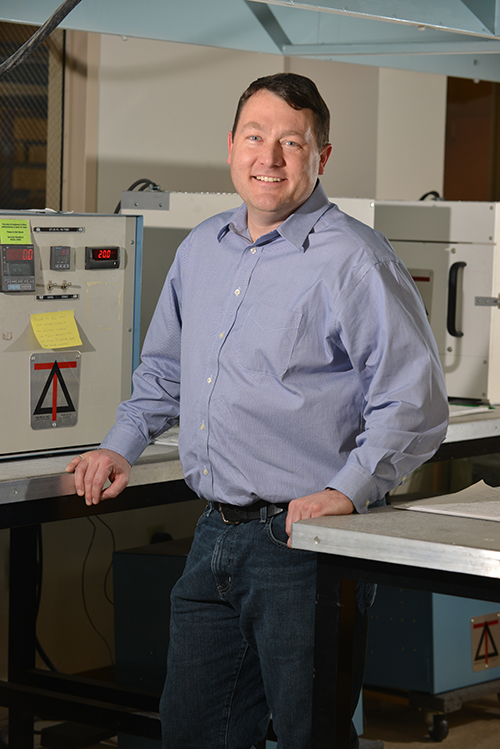 Also receiving an honor at the banquet is Brennecka, who has been named a Fellow of the American Ceramic Society, one of the highest levels of membership in the organization. He will be recognized for his research in ferroelectrics and piezoelectrics, as well as his extensive service to the society, and is one of the youngest members ever elevated to Fellow status.

"It is a tremendous honor and was quite a surprise when I found out," Brennecka said. "I didn't even know that I was being considered!"

Brennecka leads the Functional Ceramics Group at Mines, whose research explores the fundamental properties as well as practical issues of fabrication and integration of a variety of ceramics in both bulk and thin film forms for electrical, electromechanical and optoelectronic functions.

Brennecka has been active in the American Ceramic Society since 1999, and has served as president of the National Institute of Ceramic Engineers and chair of the Education Integration Committee—helping to launch several student-focused initiatives within the society, and has organized more than two dozen technical symposia and three full conferences. He currently serves as an associate editor of the Journal of the American Ceramic Society, chair of the Electronics Division and member of the society's board of directors.
Contact:
Megan Hanson, Communications Manager, College of Applied Science and Engineering | 303-384-2358 | mhanson@mines.edu
Mark Ramirez, Managing Editor, Communications and Marketing | 303-273-3088 | ramirez@mines.edu