Cansu Perdeli Demirkan: "Mines is a great place to be if you want to focus on emerging technical and social issues in mining with an interdisciplinary approach."
Ankara, Turkey
Earth Resources Development Engineering, PhD Candidate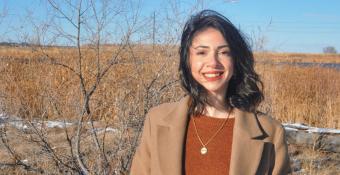 Why did you choose to come to Mines? What have you enjoyed most about being here?
I chose to come to Mines because of its world-renowned reputation in the field of science and engineering, especially mining. I enjoy the friendly, warm and diversified atmosphere on the campus, and I love how people are willing to help each other out.
Tell us about something you're working on right now that you find exciting, fulfilling or challenging?
Currently, I am working on exploring and quantifying mining's contributions to sustainable development. It is very challenging since both mining and sustainable development involve complex interactions between society, the environment and economics. Still, it is very exciting and fulfilling to me as I am passionate about sustainability and finding solutions for a better future.
Have you done an internship or co-op or been in a professional job while at Mines? Tell us who you worked for and what you were doing. What stands out?
I have done a part-time internship for five months and a full-time internship for three months while at mines. I worked for SRK Consulting (U.S.) as an engineering intern on identifying the relation of Environment, Social and Governance (ESG) actors, initiatives and framework to mining companies, with a focus on mine water management. It was an invaluable experience for me as I had the chance to be a part of the great team of experts in SRK and to become familiar with the professional job environment in the U.S.
What communities, groups or organizations—on- and off-campus—are important to you and why?
Being passionate about sustainability and climate change solutions, the non-governmental organizations (NGOs) working in these fields are important to me because I think they serve an important purpose and they are inspirational. These organizations are also often a good source to follow the latest trends and hot topics in sustainability and climate change, and they keep you up-to-date in your expertise.
What are your plans for the future? What's your dream job?
I want to be a part of the decision-making or policy-making in the field of mining and sustainable development. As long as I feel that I have a solid contribution to developing sustainable development solutions and increasing mining's positive contributions to sustainable development, the environment and future generations, I would be happy.
What would you tell someone interested in joining your academic program or Mines in general?
I would tell them that Earth Resources Development Engineering (ERDE) program is a great place to be if they want to focus on emerging technical and social issues in mining with an interdisciplinary approach. Thanks to ERDE and its faculty and graduate students coming from diversified backgrounds, I continuously expand my knowledge, skills and thinking process.
What's your favorite thing to do outside of class and coursework? How do you unwind, manage stress, find fulfillment, etc.?
I am a huge music lover, and I love making playlists on Spotify. I also like distracting myself from the everyday stresses by watching movies and series and reading books. Other than that, I love working on my mental and physical well-being by eating cleaner, exercising and meditating as much as I can. When it comes to exercise, my favorites are strength exercises, pilates and yoga.
Tell us something about you that most people would be surprised to learn?
After I graduated from high school, I lived in Brazil as an exchange student for a year. It was a once-in-a-lifetime experience!