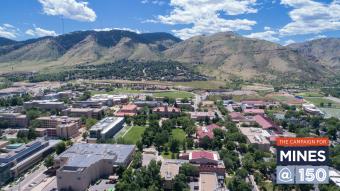 On October 7, Colorado School of Mines officially launched the Campaign for MINES@150 with the ambitious objective of solidifying the university's standing as a world leader in producing distinctive and highly valued engineers and scientists and the innovations and knowledge the world needs for prosperity. The campaign aims to raise the resources and develop the partnerships required to accomplish this and more before Mines' 150th anniversary in 2024.
Prior to the public launch, $226 million has already been raised in lead gifts and privately funded research grants in support of the university's MINES@150 strategic plan. 
"Throughout our nearly 150-year history, we have always been responsive to the changing needs of industry and society. That, and the desire to take Mines to the next level, is what has led us to this critical point in our evolution," said Mines President Paul C. Johnson.  "We must position ourselves to prepare our students for jobs and fields that don't even yet exist – by giving them the education, experiences, networks and resources they need to lead their fields, serve their communities, launch their companies and achieve their dreams. We must also ensure that a Mines education remains accessible to bright and hard-working students from all backgrounds."
Producing distinctive graduates who will be technically-trained leaders in industry and society and who will be innovators and entrepreneurs is at the heart of MINES@150. Industry partners count on Mines graduates with their well-known qualities of grit, rigor and teamwork, but those partners also want them to have strong business, entrepreneurial and leadership skills. That will be accomplished through Mines' new signature student experience that builds on the well-known rigor of its coursework, extracurricular activities, new business courses, practical experiences like internships and research experiences with Mines' world-class faculty, and a deliberate professional preparation of its students.  
With state funding making up less than 10 percent of Mines' operations, students and families shoulder much higher costs today than previous generations. A critical goal of the campaign is to offset financial burdens on families through generous private support.
The Campaign for MINES@150 focuses on four philanthropic priorities:
Investment in Students
Scholarships, fellowships, student scholar communities and K-14 outreach will make a Mines education attainable for bright and hard-working students, independent of their background.
The Mines Signature Student Experience
Preparing future Mines graduates for success will require challenging coursework, workshops and seminars, practical experiences and mentoring for students to develop technical prowess, leadership, professional skills and a broad understanding of the world they will lead.
Entrepreneurship, Innovation and Business Programs
Mines graduates will have business acumen and an entrepreneurial, innovative mindset. They will be prepared to meet the challenging demands of industry and society well into the future.
The Pursuit of Excellence and Distinction
Mines will be distinguished by excellence in academic programs, research, faculty, athletics and extracurricular activities. 
The campaign's launch comes at a challenging time in higher education, industry and the world.  "Philanthropy will propel excellence for Mines," said Brian Winkelbauer, president and CEO of the Mines Foundation. "Mines has dedicated alumni who are poised to rise above the challenges and come together in pride to create progress for our institution."
Learn more about the Campaign for MINES@150 and how to support Mines' future at campaign.mines.edu.
About Colorado School of Mines
Colorado School of Mines is a public university focused on science and engineering, dedicated to educating and inspiring students, advancing knowledge and innovating to address the great challenges society faces today—particularly those related to earth, energy and the environment. Founded in 1874 with specialties in mining and metallurgy, Mines' scope and mission have evolved to meet the needs of industry and society, producing distinctive graduates and revolutionary innovations, with impact to the energy, aerospace, civil infrastructure, defense, IT, health and earth resource industries.