Building Greener: Mines students competing to design, build the future of sustainable housing
A team of Mines students, working with other college students in Denver area, are competing in 2023 U.S. Department of Energy Solar Decathlon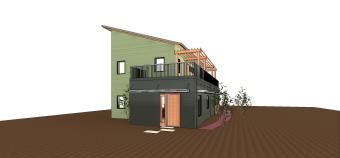 What does it look like to build an efficient house with a low carbon footprint that is also beautifully and functionally designed? That's the challenge a group of Mines students are tackling as one of the teams chosen to compete in the 2023 U.S. Department of Energy Solar Decathlon.
Having presented their designs, renderings and business plans earlier this semester, the Mines team officially received the go-ahead from DOE this month to move onto the next stage of the competition: actual construction of the actual house. They hope to break ground this summer, with a proposed finish date of February 2023.
"We don't just want innovation for innovation's sake," said Joanna Bomber, a junior majoring in civil engineering and the team's project manager. "We want innovation to benefit the people of the house. We are Mines students, and our strength is engineering, so we can really look at the whole project and decide what is most helpful to the occupants."
Solar Decathlon is a collegiate competition that challenges students to design and build high-performance, low-carbon buildings that mitigate climate change and improve quality of life. It began back in 2002 and has grown into a worldwide competition that has included more than 160 collegiate teams. The Build Challenge has been held biennially since the competition's inception, and past Solar Decathlon houses around the globe still serve as places for education building, conservation awareness and community gathering.
The 2023 Build Challenge is a little different from previous years, in that rather than having teams build their homes in a single location, each team will build their structure in their own home communities. The Mines team has yet to finalize their exact build site, but Mines leadership is supportive of the effort and a potential location has been identified in Mines Park, said Tim Ohno, associate professor of physics and the team's faculty advisor. 
"The goal is to build an actual house here in Golden," Ohno said. "We're working on securing the estimated $350,000 needed in funding, but the team's plan has been accepted by the DOE out of more than 30 other teams."
The team has already raised a portion of the funds needed, but they still need support, both financially and through in-kind donations. They're currently running a Gold Mine crowdfunding campaign through April 30 via the Colorado School of Mines Foundation (donate online: https://www.givecampus.com/jgu04a).
A cross 5280 effort
Named Net Zero 5280, the cross-disciplinary team is being led by Mines students, both undergraduate and graduate. But team members are not solely from one institution: Arapahoe Community College, which has architecture and interior design programs, also has members working on the project. And as construction on the house gets underway this summer, students from Red Rocks Community College are set to join the effort, too.
"As a whole, the project is led and directed by Mines students, but we're not the only ones on the team," said Nathan Li, a sophomore who is majoring in engineering with a focus on sustainable building design and serves as director of design for Net Zero 5280. "Without Arapahoe, we wouldn't have a team that's successful in design and drafting, which are important parts of the competition."
Along with Li and Bomber, other Mines students making up the Net Zero 5280 leadership team include Jade Glaister, director of business and a sophomore majoring in mechanical engineering; and Jessica Richman, director of engineering and a junior majoring in metallurgical and materials engineering.
Net Zero 5280 hopes to build on the legacy of past Mines success in the Solar Decathlon, too. In 2015, a group of Mines students began building a net-zero tiny house, with the goal of preparing themselves to compete in a full Solar Decathlon, Mines' first ever. The 220-square-foot tiny house was showcased out of competition at the 2017 Solar Decathlon in Denver before members of that team went on to compete – and win – the 2019 Solar Decathlon Africa in Morocco. Mines and their Moroccan teammates bested 17 other teams from around the world – the first time that Mines fielded a team in the prestigious international competition. 
Net Zero 5280 members still work on the tiny house showcased in 2017 competition, but Glaister said their new design is bigger – in scope, size and ambition.
The house Net Zero 5280 has planned is 1,700 square feet with four bedrooms and two bathrooms. Particular focus has been placed on connecting the living space with the outside environment. A large balcony will offer a panoramic view of the mountains and the city of Golden. The centerpiece of the main living area will be a living plant wall. Take a walkthrough of the planned house: https://www.youtube.com/watch?v=BPkDRVkF5wA
'Normalizing sustainable design'
While the house renderings are modern and attractive, some of the most important aspects of the building's design are the not-as-visible sustainable features.
Geothermal and solar thermal will be used to heat the house and its water systems. A greywater system will take used water from the showers to flush toilets and to water the living plant wall. The house will be powered by 8 kW of photovoltaics and a student-designed battery system. Outside the house, landscaping will focus on native plants and useable space for residents to spend time.
Glaister said one of the early things the business group did was survey Mines students and find out what kind of living space they wanted. The results of those surveys strongly impacted design decisions.
Going through the process, the team also learned how most developers usually construct houses. By participating in Solar Decathlon, the team realized they didn't just want to win one competition, but potentially contribute to changing construction industry paradigms.
"Our biggest team goal is normalizing sustainable design," Bomber said. "We want to take certain construction practices that are out in the industry already, but are not standard, and make them more of the norm. Sometimes it takes more time, money and materials, but it's worth it in the long run. Other times they are not used solely because not enough professionals take the time to learn their value."
While Solar Decathlon is an extracurricular activity, the students' coursework at Mines pairs well with the work Net Zero 5280 has been doing. In class, they learn the principles and ideas, and then can apply them to a real-world construction build. Every member of the Net Zero 5280 leadership team is pursuing a Sustainable Energy@Mines undergraduate distinction, a program that honors and supports students from different majors who are focused on learning about shifting the landscape on sustainable energy.
"My coursework and classes are completely different from what I do on Solar Decathlon," Richman said. "I didn't know anything about plumbing or electric systems in houses or things like that before I started this. It's taught me to be more resourceful and connected me with all these other hardworking students working on a goal that's more than just getting a degree. I've worked on some great projects at Mines, but nothing that compares to the scope of this."
To connect with the Solar Decathlon team, send a message to minessolardecathlon@gmail.com.