Bridge Scholars Program aims to lower student debt for Mines graduates
Rob '68 and Ann McKee hope their gift to create the new scholars program will inspire others to contribute to reducing student debt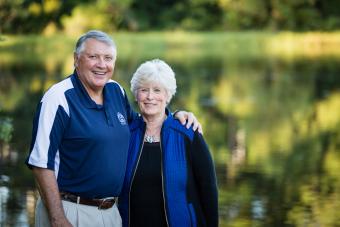 A Colorado School of Mines alumnus and his wife have made a major gift to endow a new scholars program at Mines aimed at reducing the heavy debt that some students are burdened with when they graduate.
Ann and Rob McKee '68 hope their gift to create the President's Bridge Scholars Program will inspire others to contribute to lowering student debt. Between 50 and 60 percent of undergraduates at Mines have debt at graduation; it would take an additional $5 million per year of financial aid to bring all graduating students' debt to $40,000 or less.
"This is a program that doesn't just dole out money," Rob McKee said. "It's not a scholarship. Students are given money as an incentive element to graduate and to remain generous and upstanding citizens."
The first two Bridge Scholars will be awarded in Fall 2020. Qualified out-of-state students who are most challenged in financial ability to attend Mines and show a strong likelihood of accumulating student debt in excess of $20,000 are eligible. The financial award, at least $10,000 per year for up to four years, will increase each year as the student nears graduation, with the funds sent directly to their lenders, thereby creating an important incentive for the students. 
Bridge Scholars will also have access to mentors and enhanced experiential learning opportunities. Those involved in the program will be part of a larger scholars community at Mines and will be encouraged to harness their leadership skills to lift each other up, develop networking activities and connect with the donors to the program.
"Many of our alumni came from modest means and point to their Mines education and degree as a game-changer for themselves and successive generations of their families," Mines President Paul C. Johnson said. "Bridge programs like the visionary one generously established by the McKees will enable us to continue to provide this opportunity to students who might otherwise not attend Mines due to the projection of significant debt at graduation."
Financial investment in students through scholarships, fellowships and scholar communities is a key priority in the MINES@150 plan, which positions the university for future success as it celebrates its 150th anniversary in 2024 and beyond. To continue to be competitive in recruiting top applicants, Mines is focused on being financially accessible to students from all backgrounds. Innovative offerings such as the Bridge Program will be critical to meeting that goal.
"In order to be a top-of-mind, first-choice university, we must work toward being more financially accessible to the students who meet our high academic standards and have the other qualities, like work ethic, intellectual curiosity and outstanding character, that we value," said Brian Winkelbauer, president and CEO of the Colorado School of Mines Foundation. "Through the incredible vision and generosity of the McKees, this program will serve as a catalyst for reducing student debt—an important measure of a university's accessibility and a critical factor in student recruitment."
The McKees also hope this program will help students understand the importance of philanthropy and motivate them to give back to the university. Scholars will be expected to return the generosity from which they have benefited when they become more financially able, creating an enduring philanthropic cycle. This is a concept that the couple believes in and actively pursues.
"We are trying to just do what we can for an institution to which we owe much," Rob McKee said. "We are going to keep doing that as long as we are able."