Over two decades after his show aired on PBS and took the '90s by storm, "Bill Nye the Science Guy" is still a hit among science enthusiasts, especially with the millennials who grew up watching him. On Oct. 5, Nye visited the Colorado School of Mines to speak to a sold-out crowd of students, alumni, faculty, and staff in Lockridge Arena.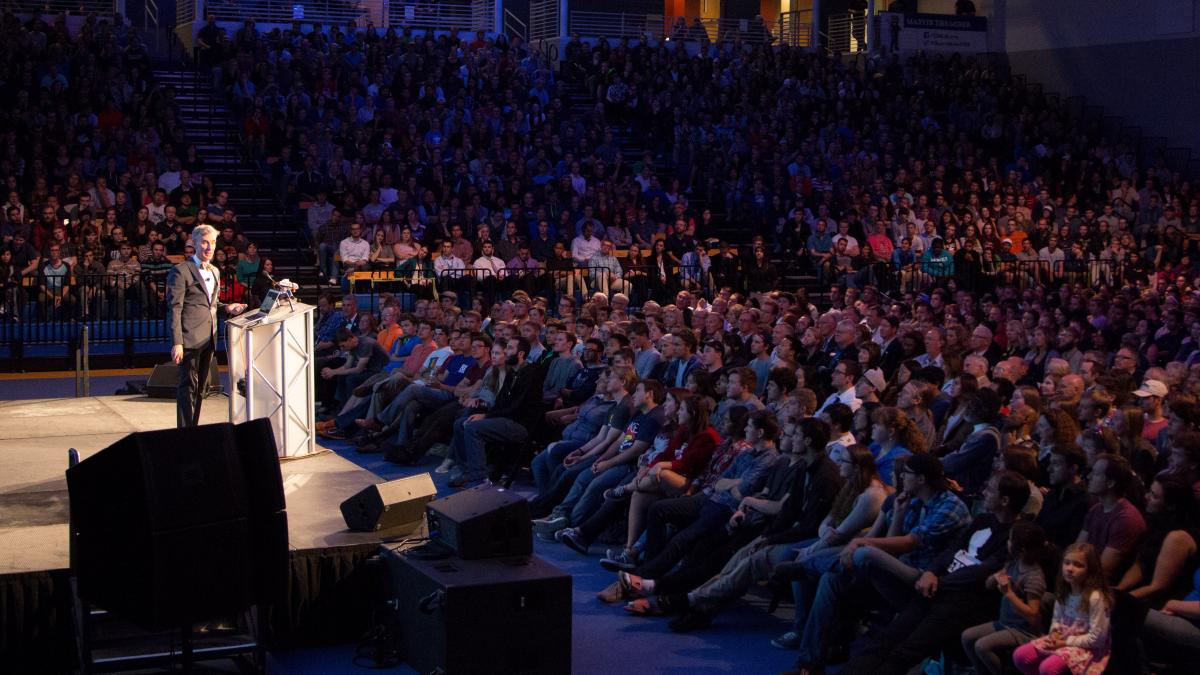 Bill Nye speaks to sold out crowd at Mines' 2016 President's Distinguished Lecture. Photo Credit: Agata Bogucka
"It was a childhood dream come true," said sophomore Victoria Martinez-Vivot. Martinez-Vivot got the opportunity to meet Bill Nye prior to the talk, due to her role as MAC Co-Publicity Chair.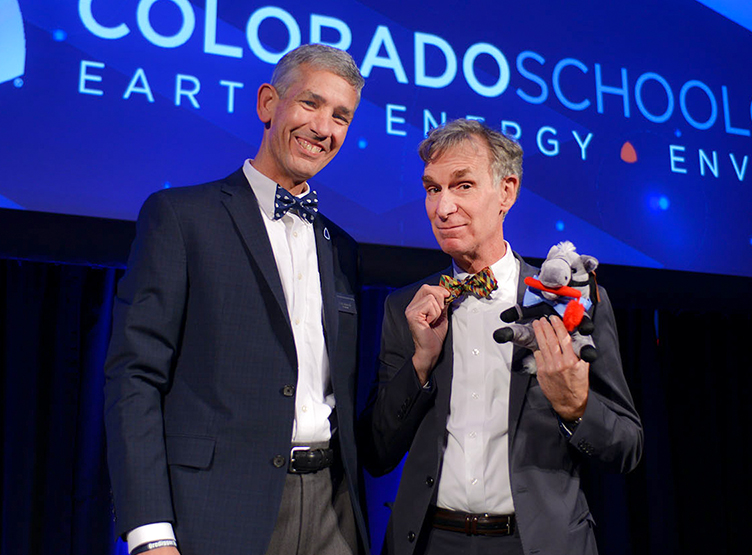 Mines' President Paul Johnson, Bill Nye and Blaster the Burro in their matching bow-ties, all part of the Bill Nye official bow-tie collection. Photo Credit: Thomas Cooper
Nye's talk— part of the President's Distinguished Lecture series and kickoff to the 2016 Homecoming festivities— focused on the biggest problems facing our planet and what society, especially young people, can do to make the world a better place.
His catch phrase for the night was: "I want you guys to — dare I say it — change the world."
Climate change sparked the conversation, but was only one element of Nye's advocacy for "renewable and reliable energy for all". In addition to encouraging the crowd to recognize renewable resources as the future of energy, he also dared Mines students to design the better battery and invent hydro-fusion engines for airplanes.
Fueled by his views on climate and the need to recognize the reality of our rapidly changing planet, Nye challenged the crowd of young engineers to solve the world's top three engineering grand challenges: providing clean water, renewable reliable energy and Internet access for all. He also expressed his support for space exploration.
"Space exploration brings out the best in us," said Nye. "There are two questions we all ask: Where did we come from? And are we alone in the universe?" Nye asserted that our desire to explore space illustrates the innate yearning within humankind to understand our origins, despite problems planet Earth may be faced with.
After a humorous introduction highlighting his father's fascination with sundials and Nye's own "MarsDials", Nye quipped about how times have changed and reflected on his own scientific youth, including the moment he learned that there are in fact, "100 times more stars in the universe than there are grains of sand on the Earth." One of the most memorable moments of the night was Nye's birthday call to Neil deGrasse Tyson — last year's Distinguished Lecturer — where he invited the audience to join him in wishing Tyson a "happy orbit around the sun." The Mines crowd could not have roared any louder.
One Mines student gave a heartfelt thank you to Bill Nye during the Q&A at the end of the lecture — "I just want to say that your plate tectonics episode is probably the reason I'm here studying geology right now, so thank you." 
Nye is currently the CEO of
The Planetary Society
, continuing his legacy of teaching people of all ages the joys and wonders of science. He spent Earth Day 2015 speaking with President Barack Obama about climate change and science education. He also had a short debut on ABC's "Dancing with the Stars" but had to drop out after sustaining an injury.
Contact:
Agata Bogucka, Communications Manager, College of Earth Resource Sciences & Engineering | 303-384-2657 | 
abogucka@mines.edu
Leah Pinkus, Communications Assistant, Colorado School of Mines | 303-273-3088 | 
lpinkus@mines.edu