Aurora Waclawski: "I wanted to learn from great teachers and be inspired by my classmates...I have not been disappointed."
Homer, AK
Environmental Engineering Student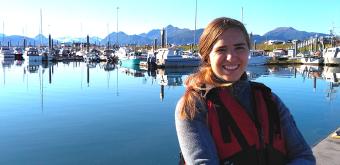 Why did you choose to come to Mines? What have you enjoyed most about being here?
I came to Mines for the environmental engineering program. I wanted to learn from great teachers and be inspired by my classmates. I have not been disappointed and have been impressed by how passionate my colleagues are about their interests and it has helped me become a better engineer.
Tell us about something you're working on right now that you find exciting, fulfilling or challenging?
My research focuses on applying data science and advanced controls to applications in the water industry. I am currently applying these methods to a reverse osmosis pilot system. This is an exciting multidisciplinary project where I can use many different classes and experiences to help improve the methods and provide valuable experimental results to the team.
Have you done an internship or co-op or been in a professional job while at Mines? Tell us who you worked for and what you were doing. What stands out?
I have had the opportunity to intern at Denver Water, the National Park Service and Freeport McMoRan. These were vastly different experiences that ranged from fieldwork at Denver Water to design work at the National Park Service. Though they had different focuses, they were connected by the common thread of water and its importance to society and the environment.
What communities, groups or organizations—on- and off-campus—are important to you and why?
I am the president of the AWWA-WEF (American Water Works Association - Water Environment Federation). This is a great organization for students interested in a career in the water industry or who want to share their passion for water as we have networking events, speakers and the opportunity for outreach. Water is so important so I want to help others learn about it.
What would you tell someone interested in joining your academic program or Mines in general?
Mines is a great place for people who are interested in going into the water industry, whether that be hydrology, water and wastewater treatment or industry (mining, oil and gas etc.). There is also a smaller (but existent) group interested in air quality and site remediation. That said, there are all kinds of career paths from a degree in environmental engineering whether that be policy, environmental law or sales (I know people who have gone into all of those). You don't necessarily have to want a technical career for environmental engineering to be a good fit; often a technical background in non-technical fields is highly valued. I would recommend chatting with someone in the program so they can help you understand the career paths available, since environmental engineering is an incredibly broad program, and I have talked to a lot of first-years who are in the program and don't actually know what environmental engineering is.
What's your favorite thing to do outside of class and coursework? How do you unwind, manage stress, find fulfillment, etc.?
I love to cook healthy meals, read books, run, backpack, pray and cross-country ski. Between all of them, I maintain pretty good mental health.