Alumni ratings land Mines at No. 12 on Top 25 U.S. Universities list
Forbes Magazine shares results of Gallup-Strada survey of 146,345 college graduates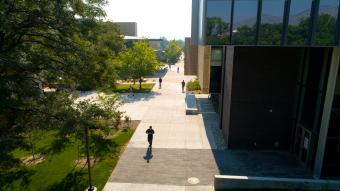 Colorado School of Mines sits at No. 12 in a new ranking of the Top 25 U.S. Universities based on the reviews of those best suited to evaluate a college or university's quality—its alumni.
The ranking appeared this week in a Forbes Magazine article, "The Top 25 Universities Based on Alumni Ratings." Princeton University topped the list of U.S. universities, followed by Yale University (No. 2) and the Massachusetts Institute of Technology (No. 3). At No. 12, Mines appears three spots behind Harvard University (No. 9) and five spots above Stanford (No. 17).
The ranking is based on results from the Strada-Gallup Education Consumer Survey. The survey captured the responses of 146,345 graduates from nearly 3,000 U.S. colleges and universities to 14 questions about the quality of instruction, career preparation and more at their alma mater.
"We are proud to appear on this list," says Mines President Paul C. Johnson. "Alumni outcomes and affinity are key performance indicators that we measure ourselves against, and that drive the unique education we offer at Mines. We applaud the creation of a ranking that emphasizes those attributes, as they are becoming increasingly important to students and their families when they make their college choices."
Jonathan Rothwell, a senior economist at Gallup, analyzed the survey responses and produced the Top 25 list, which first appeared in the Spring 2019 issue of the Journal of Consumer Affairs.
Based on his analysis of the survey results, which was tested against other established rankings and quality measures, Rothwell concluded that alumni highly value colleges and universities that "prepare them for well-paying careers," employ helpful, knowledgeable full-time faculty, ensure students earn their degree in a timely fashion, and provide the kind of high quality undergraduate education necessary to pursue an advanced degree.
Mines routinely appears on rankings for the nation's best value and return on investment colleges and universities. You can see more results at https://www.mines.edu/about/rankings/.