Abdulaziz Alsheraim: "I also enjoyed the connections that I have created and the community that I was part of here at Mines."
Riyadh, Saudi Arabia
Petroleum Engineering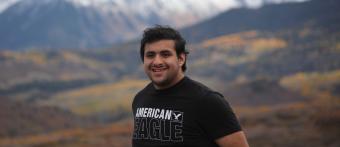 Why did you choose to come to Mines? What have you enjoyed most about being here?
I came to seek a better education while getting exposed to different cultures. I enjoyed the weather and mountains of Colorado, and I also enjoyed the connections that I have created and the community that I was part of here at Mines.
Tell us about something you're working on right now that you find exciting, fulfilling or challenging.
I am two weeks away from graduating! I think this peak of excitement for me. Also, my brother is attending Mines next year, so I am spending the last days here to make sure he has a smooth transition.
Have you done an internship or co-op or been in a professional job while at Mines? Tell us who you worked for and what you were doing. What stands out?
Unfortunately no, because my sponsoring company has certain guidelines regarding internships.
What communities, groups or organizations—on- and off-campus—are important to you and why?
While I was here at Mines, I was part of many organizations, educational, cultural and fun organizations too. However, I really valued the Saudi Students Association since I was able to spread my culture while also being close to my friends who share a similar background as me since I am thousands of miles away from my family.
What are your plans for the future? What's your dream job?
The future is uncertain. I do not have a typical dream job, I am easy to adapt and I like challenges, so no dream job comes to mind.
What would you tell someone interested in joining your academic program or Mines in general?
Do not focus on academics alone, memories are what stick with you after you graduate. Have some good time management, and you can enjoy your life here in Mines while also excelling academically.
What's your favorite thing to do outside of class and coursework? How do you unwind, manage stress, find fulfillment, etc.?
I like to travel, meet new people, learn a new hobby, watch TV shows, read a book and many more. I like to break the routine once in a while, and learning a new thing is always beneficial for me, as it gives me a new point of view each time.
Tell us something about you that most people would be surprised to learn?
I believe that I am full of surprises, but I do not try to hide anything. So if anybody wants to learn something about me, they can easily do so.