2023 M Climb: Colorado School of Mines to celebrate annual tradition Aug. 18
Grab your hard hats and 10-pound rocks, new Orediggers. It's time to climb Mount Zion.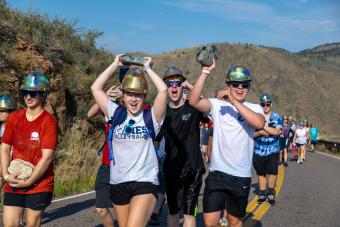 Colorado School of Mines will hold its annual M Climb this week to welcome first-year students to campus.
A signature Mines experience dating back to 1908, the M Climb brings together the newest class of Orediggers every year the Friday before fall classes begin. Students climb Mount Zion in Golden, carrying 10-pound rocks from their hometowns. Upon reaching the top, students place their rocks on the mountainside emblem in the shape of an M, visible throughout Golden and beyond.
The 2023 M Climb is scheduled for the morning of Friday, Aug. 18. Fall classes begin Monday, Aug. 21.
Mines received about 10,600 applications for the 2023-24 academic year and will welcome 1,623 first-year and transfer students to campus this fall.
New Mines students: By the numbers, 2023-24 edition
1,623                     new first-year and transfer students
33                          percent women
34                         percent underrepresented domestic ethnic or racial groups
18                          percent first-generation college students
3.6                         percent international students
3.72 to 3.96          middle 50% high school GPA (on an unweighted 4.0 scale)
1330 to 1460         middle 50% SAT composite score
48                            states represented
21                             countries represented
Top 3 U.S. states outside Colorado: Texas, California, Washington
Top 3 countries outside U.S.: Saudi Arabia, Oman, and Indonesia
M Climb logistics
Timing
The M Climb will kick off around 7:30 a.m. Friday, Aug. 18 in the Intramural Fields (1651 Elm St., Golden). Students will depart in two waves.
Route
Students will walk from the IM Fields to 19th Street, cross over U.S. 6 and then climb up Lookout Mountain Road to the M on Mount Zion. After the climb, students will walk back to campus for a cookout and additional Fall Kickoff activities.
Note on Access
During the M Climb, Lookout Mountain Road will be closed to the public above the arches until 1 p.m. Friday.