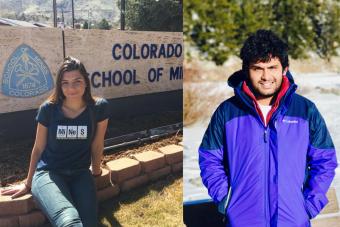 Two Colorado School of Mines students won awards in the virtual Fall 2020 Student Speaking Symposium hosted by ASM International.
Diptak Bhattacharya, a PhD student in metallurgical and materials engineering, took first place in the graduate student category for his presentation, "Liquid Metal Embrittlement Susceptibility Of Zn-Coated Advanced High Strength Steels." Bhattacharya is conducting his PhD research under John G. Speer, Kip O. Findley and Lawrence Cho in the Advanced Steel Processing and Products Research Center. His research aims to solve the problem of liquid metal embrittlement to increase the implementation of third-generation advanced high strength steels in automotive manufacturing.
Gabriella Tuell, a mechanical engineering major, won second place in the undergraduate category for her presentation, "Metamorphic Manufacturing." An Mines Undergraduate Research Fellow, Tuell is conducting research under Kester Clarke, assistant professor of metallurgical and materials engineering.
Organized by the ASM Student Board Members, students created five-minute videos showcasing their research, with a panel of judges evaluating the submissions based on various criteria. Undergraduate and graduate students were judged separately, with first- ($1,000), second- ($750), and third- ($500) place prizes up for grabs in both categories.
ASM International is the world's largest association of materials-centric engineers and scientists, dedicated to informing, educating, and connecting the materials community to solve problems and stimulate innovation around the world.