Mines ranks #4 in Lumosity's 'Brainiest Colleges' Rankings
Mines students also earned the #1 ranking in Train of Thought, a Lumosity game exercising attention and planning skills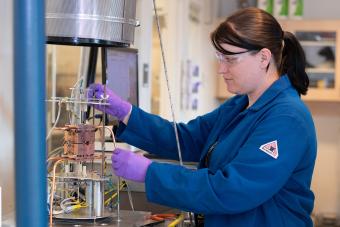 In April, leading braining training company Lumosity released its 2019 Brainiest Colleges in America ranking and Colorado School of Mines students earned the university a #4 ranking.
According to a Lumosity release, the ranking is based on the test results of more than 75,000 college students who played brain games as part of the Lumosity Fit Test, which is offered to all new Lumosity users and test abilities including "attention, memory, processing speed, and flexibility."
Mines finished behind number one Dartmouth College, Carnegie Mellon University (#2) and M.I.T. (#3) and ahead of Harvard University (#5) and Princeton University (#6).
The Denver Post, local news stations and many others reported on the outcome. Mines students interviewed by 9News, CBS4, ABC's Denver 7 (included below) and other stations seemed flattered—if not totally surprised.
"What's truly unique about the Lumosity rankings is our ability to focus instead on a student population's core cognitive abilities," said Bob Schafer, Ph.D., VP of Research at Lumosity. "It turns out that performance on these games is strongly correlated with standardized test scores, and many schools at the top of the list won't surprise you. But there are also a handful of schools that you might not expect. The student bodies of these schools have memory, speed, attention and flexibility skills that make them stand out."
The full rankings can be found on the Lumosity Blog