Mines professor wins award from American Association of Petroleum Geologists
Alexei Milkov receives Robert R. Berg Award in recognition of achievements in petroleum geoscience research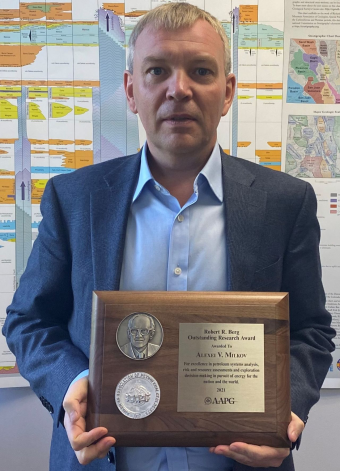 Alexei Milkov, professor of geology and geological engineering and director of Potential Gas Agency at Colorado School of Mines, has been awarded the 2021 Robert R. Berg Outstanding Research Award in recognition of his achievements in petroleum geoscience research.
The honor is one of the major awards given by the American Association of Petroleum Geologists. Milkov's citation for the award states he was chosen "for excellence in petroleum systems analysis, risk and resource assessments and exploration decision-making in pursuit of energy for the nation and the world."
Milkov's research interests are in exploration geoscience, petroleum geochemistry, basin modeling and geological emissions of methane. He has been on faculty at Mines since 2016. Milkov holds a PhD from Texas A&M University and bachelor's and master's degrees from Saint-Petersburg State University in Russia.
Milkov's published research articles focus on petroleum geoscience, petroleum geochemistry, basin modelling, methane emissions and gas hydrates.