Posted: June 23, 2016
On June 17 and 18, a team of five Mines students placed third in the American Association of Petroleum Geologists (AAPG) International Imperial Barrel Award (IBA) competition, a prospective basin evaluation competition for geoscience graduate students around the world. More than 250 university teams from over 50 countries partipate in the IBA competition each year and one winner from each of the 12 AAPG regional sections was chosen to move forward to the international competition. Mines received the Stoneley Medal and $5,000 in scholarship funds, creating a legacy after two previous third place wins in 2012 and 2014.
"With all of the excellent scientists participating at the international level, winning the Stoneley Medal was a great recognition, and we are proud to help continue the tradition of excellence here at Mines," said geology and geological engineering graduate student Michael Harty.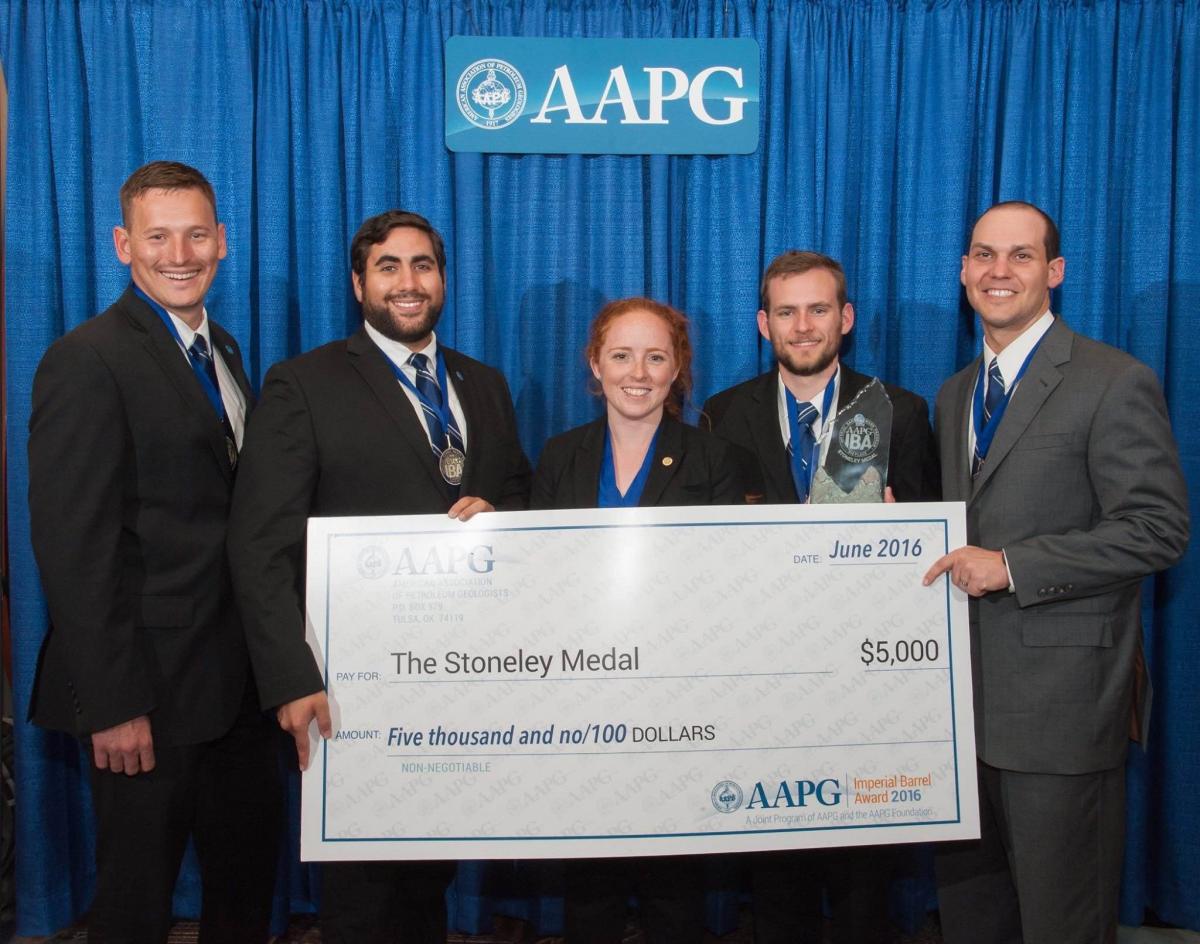 From left: Matt Bauer, Abdulah Eljalafi, Sarah King, Michael Harty and Evan Allred
Geology and geological engineering graduate students Abdulah Eljalafi, Sarah King, Michael Harty, Matt Bauer, Evan Allred and faculty advisor Steve Sonnenberg participated on the 2016 Mines team. Prior to the competion, teams were given a geoscience dataset to analyze. Teams delivered results in 25-minute presentations to a panel of industry experts, and winners were chosen on the basis of the technical quality, clarity and originality of their presentations.

"The IBA competition offers such a great experience. I recommend it to any geology, geophysics or petroleum engineering student looking for a hands-on experience," said Bauer. "Our team evaluated a real dataset and presented our findings to a panel of worldwide industry experts. We feel lucky to utilize the excellent technical and applied instruction that Mines provides—it definitely helped us stand apart from the competition." 

A full list of winners can be seen on the IBA website.
Contact:
Agata Bogucka, Information Specialist, College of Earth Resource Sciences & Engineering | 303-384-2657 | abogucka@mines.edu
Kathleen Morton, Digital Media and Communications Manager, Colorado School of Mines | 303-273-3088 | kmorton@mines.edu