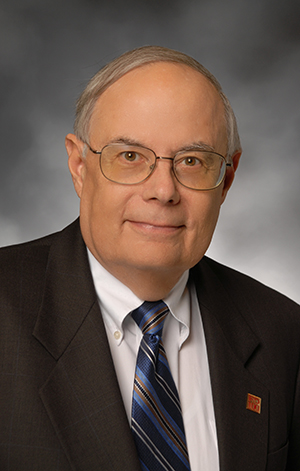 GOLDEN, Colo., May 24, 2013 – Colorado School of Mines Chemistry and Geochemistry Professor Kent J. Voorhees, a Utah State University (USU) graduate (BS '65, MS '68, Ph.D.'70), has received the 2013 Board of Trustees Outstanding Faculty Award.
The award recognizes a faculty member "who has made a significant positive impact on student learning, with special emphasis on teaching outside the classroom."
Since arriving at Mines in 1979, Voorhees has had a positive influence on the lives and careers of a large number of undergraduate and graduate students. He has mentored 20 doctorate students and 14 master's students, as well as many undergraduates in his laboratory. Voorhees also has mentored 16 U.S. and foreign postdoctoral scholars, exposing Mines students to those from different educational and cultural backgrounds.
For the past 10 years, Voorhees has been a member of the American Chemical Society (ACS) Board of Directors and presently serves as the chair of the ACS Green Chemistry Institute Governing Board. He was instrumental in bringing the Green Chemistry Summer School to Mines. The program annually invites as many as 60 graduate students and postdoctoral associates from North, Central, and South America to study the principles of green chemistry.
Voorhees received the USU Chemistry and Biochemistry Department Alumni Achievement Award in 2002 and has received several other local and national honors. Voorhees served on the USU College of Science Advisory Board from 2006-09.
He is currently on transitional retirement but continues to conduct chemical and microbiological research in a world-class laboratory. His research has lead to two startup companies and is the basis for using mass spectrometry to identify bacteria.
A nomination for the award from one of his former doctoral students read, "In the best tradition of Mines, Kent's work focuses on solving real-world problems. His contacts with the world outside of academia are instrumental in providing an exciting and meaningful environment for his students."
Another former student wrote, "I mark Kent as one of the very influential people in my life."
Kent is married to the former Tamara Lasson. They have two children, Christian (MS '05) Riverton, Utah, and Danielle Wright, Watkinsville, Ga. Kent and Tamara live in Golden, Colo.