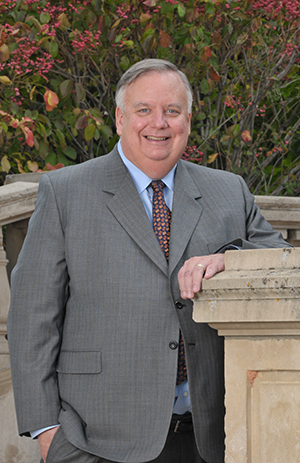 GOLDEN, Colo., May 21, 2015 – Colorado School of Mines President M. W. "Bill" Scoggins has been recognized by the Mines Board of Trustees for his exemplary contributions as the university's 16th president and has been awarded the title of President Emeritus, effective July 1, 2015, concurrent with his retirement.
"Dr. Scoggins has served Colorado School of Mines with distinction as its president from 2006 to 2015. During this time his leadership has led to high-demand and high-profile academic offerings, furthered fiscal integrity, a transformed physical campus with the addition of six major facilities, and record-breaking fundraising by the CSM Foundation," said Jim Spaanstra, chairman of the board of trustees.
Scoggins became the university's 16th president in June 2006 after more than 34 years in the global oil and gas industry with Mobil and ExxonMobil, retiring as a senior executive in 2004. He remains active in the industry through service on several boards of directors.
During his tenure, significant university achievements include:
Increasing the graduation rate for undergraduate students to 75 percent, and freshman retention rates to 94 percent. 
Expanding the national demand for a Mines education with undergraduate applications increasing from 6,000 to more than 13,000, and non-resident students growing from 26 percent of the freshman class to 41 percent.
Growing faculty headcount by nearly 35 percent to 277, and establishing the financial resources to grow to 305 in the upcoming year. 
Nearly doubling the annual sponsored research to more than $60 million.   
Breaking university fundraising records in three consecutive years, raising more than $47 million in 2014, and increasing the Mines endowment to $271 million.
Increasing donor-established chairs and professorships from 23 to 35.  
Transforming the Mines campus through an investment of more than $230 million dollars in new buildings, facilities and other capital improvements.
Establishing the residential campus initiative: creating facilities, programs and services that enhanced the comprehensive educational experience for Mines students.
Creating the Colorado Scholars scholarship program to ensure that a Mines education remains affordable for the brightest students in the state with the greatest financial need.
Contact:
Karen Gilbert, Director of Public Relations, Colorado School of Mines | 303-273-3541 | kgilbert@mines.edu
Kathleen Morton, Communications Coordinator, Colorado School of Mines | 303-273-3088 | kmorton@mines.edu