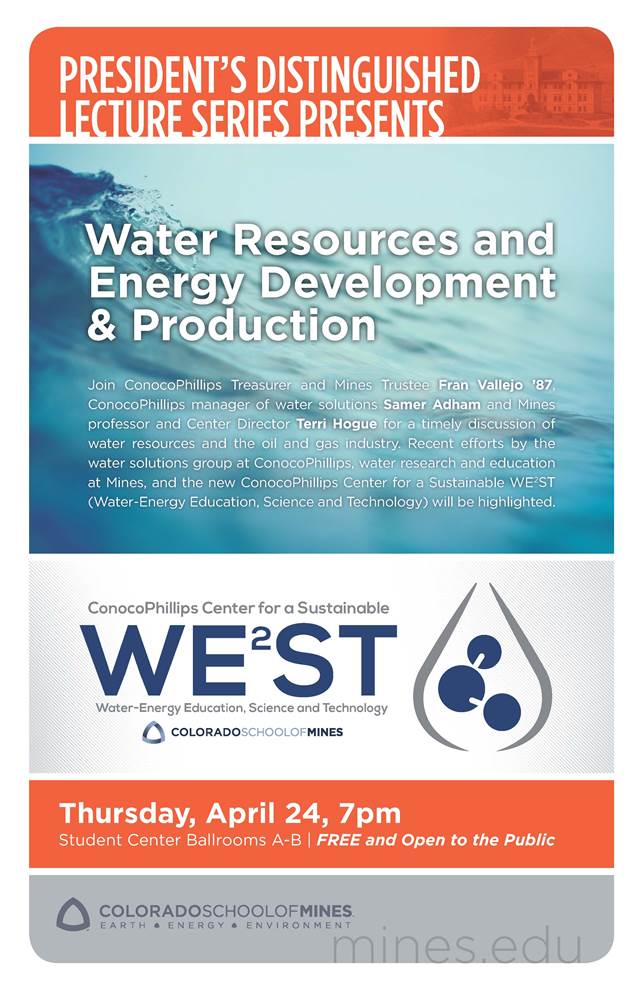 GOLDEN, Colo., April 15, 2014 – The President's Distinguished Lecture Series presents "Water Resources and Energy Development & Production," at 7 p.m., April 24, in the Student Center Grand Ballrooms on the Colorado School of Mines campus. The presentation is free and open to the public.
Join ConocoPhillips Treasurer and Mines Trustee Fran Vallejo (who earned her bachelor's degree at Mines in 1987), ConocoPhillips Manager of Water Solutions Samer Adham, and Mines Professor and ConocoPhillips Center for a Sustainable We2st Director Terri Hogue for a timely discussion of water resources and the oil and gas industry.
Recent efforts by the water solutions group at ConocoPhillips, water research and education at Mines and the new ConocoPhillips Center for a Sustainable We2st (Water-Energy Education, Science and Technology) will be highlighted.
Contact:
Karen Gilbert, Director of Public Relations, Colorado School of Mines / 303-273-3541 / kgilbert@mines.edu
Kathleen Morton, Communications Coordinator, Colorado School of Mines / 303-273-3088 / kmorton@mines.edu