GOLDEN, Colo., Feb. 5, 2014 – Corinne Packard, Colorado School of Mines Department of Metallurgical and Materials Engineering assistant professor, has been awarded a National Science Foundation Faculty Early Career Development (CAREER) Award for her research "Controlling Pressure-Induced Transformation in Rare Earth Orthophosphates."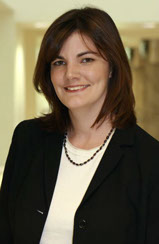 Packard's study is looking at how to improve the properties of high temperature ceramic components such as combustors, nozzles and thermal insulation in aircraft engines, turbines and rockets. Cracks in those components can lead to catastrophic failure.
Some unique ceramics undergo a change in shape and volume when they are deformed; researchers want to harness this crystal structure change to increase a material's toughness by absorbing energy caused by an impact or propagating crack. Researchers will determine how to use chemistry to control the point at which this change occurs.
Information and new materials discovered through this research could be useful in designing coatings to improve the performance of ceramic components used in high temperature aerospace applications.
Undergraduate and graduate students studying materials science and engineering at Mines will be involved in the research. The project will also develop science-learning modules for local elementary school teachers and the Rocky Mountain Camp for the Dyslexic.
The NSF CAREER award is the most prestigious award in support of junior faculty who exemplify the role of teacher-scholars through outstanding research, excellent education and the integration of education and research within the context of the mission of their organizations.
Contact:
Karen Gilbert, Director of Public Relations, Colorado School of Mines / 303-273-3541 / kgilbert@mines.edu
Kathleen Morton, Communications Coordinator, Colorado School of Mines / 303-273-3088 / kmorton@mines.edu