GOLDEN, Colo., Oct. 1, 2012 – Colorado School of Mines has unveiled plans for athletic complex improvements designed to support student athletes through new and improved training facilities with a focus on health, safety and student recruitment.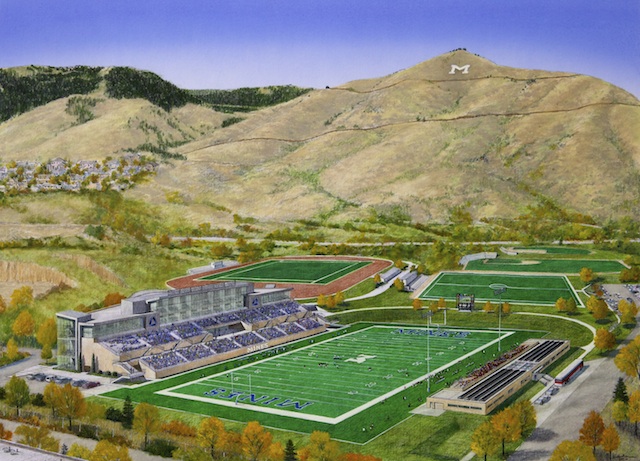 The estimated $21.3 million privately funded project has already received nearly $9 million in commitments and fundraising is underway for the remaining portion.
One component of the Clear Creek Athletics Complex, the contemporary football stadium, will be named after legendary Oredigger coach, Marv Kay.
Kay, a 1963 graduate of Mines, was head football coach for 24 years and Mines athletic director for nine. During that time, Kay served as mayor of Golden for eight years and sat on Golden's city council for 12 years. Since retiring in 2004, he has worked part-time for Colorado School of Mines and the CSM Foundation. Kay was inducted into the Colorado School of Mines Athletics Hall of Fame in 2008.
The Clear Creek Athletics Complex also includes plans for an athletics center that will house multi-sport locker rooms, strength training and sports medicine facilities for men and women, office and event space, academic advising space and functional areas for club sports and intramurals.
The project also includes updates to the soccer pitch area, a modern press box, new lighting for the track and field complex, public restrooms and flexibility for future expansion.
"These improvements will impact more than 70 percent of Mines student athletes as well as those participating in intramurals, club sports and other student activities. The student experience outside the classroom is an integral part of a Mines education as it fosters leadership and teamwork skills invaluable to the success of future engineers and scientists," said Mines President M.W. "Bill" Scoggins.
Read more about Mines athletes.
Contact:
David Tauchen, Public Relations Specialist / 303-273-3088 / DTauchen@mines.edu
Karen Gilbert, Director of Public Relations / 303-273-3541 / KGilbert@mines.edu