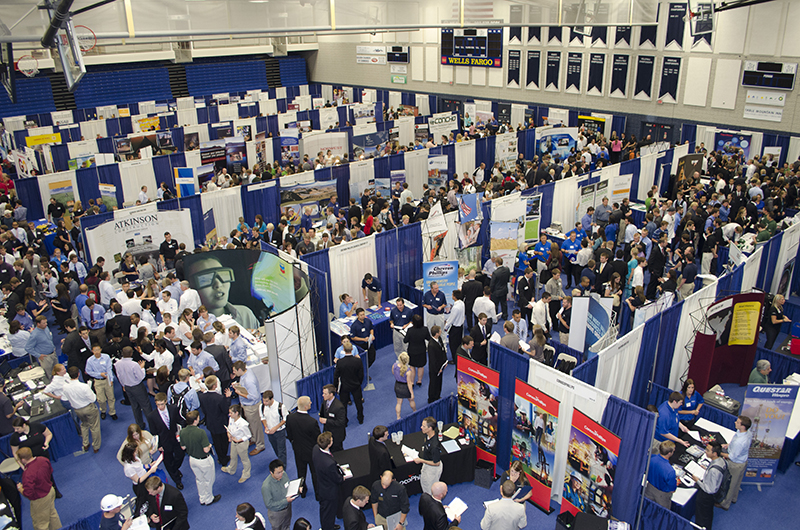 GOLDEN, Colo., Sept. 6, 2013 – One of the largest career fairs in Colorado is taking place Sept. 10 at Colorado School of Mines. More than 220 organizations from all over the world will be meeting with Mines students, graduates and alumni for Career Day in the Student Recreation Center. Around 3,100 students and graduates attend this event every year.
Registration for organizations opens in the spring and sells out quickly, as 60 organizations are currently waitlisted. More than 900 recruiters, many of whom are Mines graduates, will be in attendance.
"The reason Mines is so successful with recruiting is because we have incredible leaders who are alumni," says Jean Manning-Clark, director of Mines Career Center and Employer Relations. "They are top in their field, and represent a well-rounded student—someone who's good at engineering, has a great work ethic and is also a leader. We really do have the top students."
In 2012, Mines undergraduates earned an average salary of $66,032 and graduates one of $72,317. Salaries this year are estimated to have increased 2.46 and 6.47 percent respectively, according to projections from the Career Center.
Mines tracks 100 percent of graduates for up to two years after graduation. The Career Center contacts grads around every two weeks for current employment status.
The 2012-13 Career Center Annual Report will be available in late September on their website.
Contact:
Kathleen Morton, Communications Coordinator / 303-273-3088 / KMorton@mines.edu
Karen Gilbert, Director of Public Relations / 303-273-3541 / KGilbert@mines.edu