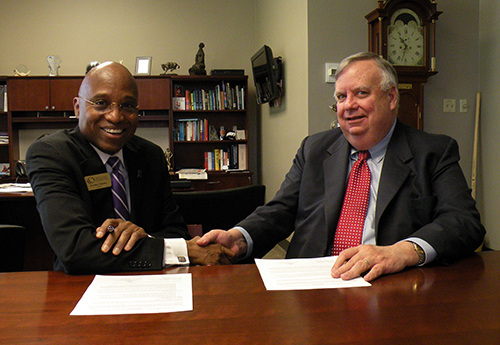 CCD President Everette Freeman and Mines President M.W. Scoggins
GOLDEN, Colo., May 29, 2014 – Colorado School of Mines President M.W. Scoggins and Community College of Denver President Everette Freeman today formalized an agreement between the two institutions to improve the transfer process for community college students planning to continue their education and graduate from Mines, and for Mines students to take electives offered by CCD.
"This enhanced agreement will help increase access and the opportunity for success for Community College of Denver students who wish to further their education in the science and engineering fields," said Scoggins. 
A transfer agreement between the two institutions has been in place since 2011, but this enhanced effort will help ensure CCD students connect to Mines support services prior to application and transfer. Incoming CCD students will experience a welcoming and supportive transition by developing relationships and making connections with Mines staff, offices and programs. This will allow for smooth integration into the Mines community prior to transfer.
"We are delighted to partner with Mines to offer CCD's most promising future engineers and scientists the opportunity to earn one of the most prestigious degrees in the country while also finishing a CCD associate's degree. For CCD, this partnership is tremendous," said Freeman.
Contact:
Karen Gilbert, Director of Public Relations, Colorado School of Mines / 303-273-3541 / kgilbert@mines.edu
Kathleen Morton, Communications Coordinator, Colorado School of Mines / 303-273-3088 / kmorton@mines.edu