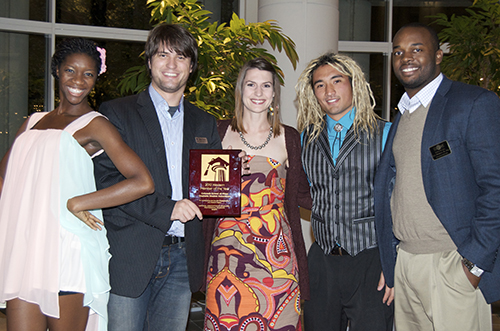 From left, Bebe Onasoga (GSA Social Chair), Nikko Collida (GSA Treasurer), Amanda Meier (GSA Social Chair), Mark Taylor (GSA Vice President), G.C. Murray, Jr. (NAGPS Social Justice Concerns Chair)
GOLDEN, Colo., Nov. 14, 2012 – The Colorado School of Mines Graduate Student Association was recently recognized by the National Association of Graduate-Professional Students (NAGPS) as the "2012 National Member of the Year."
In addition to that top honor, Mines also received the "2012 Western Regional Member of the Year" award. The "2012 Individual Member of the Year" went to Zach Aman, Mines chemical and biological engineering graduate student.
"We are honored to have received these awards considering the institutions that were in the running for Member of the Year. We are especially pleased that the efforts put forth from our organization have been impactful not only to our community here at Mines, but also to the national network of graduate students," said Cericia Martinez, Mines GSA president.
The other institutions up for "Member of Year" included the University of Cincinnati, Duke University, Texas Tech and MIT.
Mines' Graduate Student Association is the governing body for graduate students. Founded in 1991, the organization addresses issues of concern to graduate students and organizes research, academic and social functions at Mines.
NAGPS is a student-run nonprofit organization dedicated to improving the quality of life for graduate and professional students across the nation. It was organized in 1987 and serves as the only national organization representing the interests of graduate and professional students in public and private universities at local, state, and national levels.
Contact:
David Tauchen, Public Relations Specialist / 303-273-3088 / DTauchen@mines.edu
Karen Gilbert, Director of Public Relations / 303-273-3541 / KGilbert@mines.edu