GOLDEN, Colo., Aug. 26, 2014 – Colorado School of Mines alumni Michael R. and Patricia K. Starzer have committed $4 million to support construction of a new welcome center on the Colorado School of Mines campus at 19th and Illinois streets in Golden. A ceremony dedicating the site was held today for the 31,000-square-foot Starzer Welcome Center, which is anticipated to open in 2015. The Starzers are both 1983 graduates of Mines, and Patty is a member of the Colorado School of Mines Foundation Board of Governors.A beam for Mines' new welcome center was signed by dignitaries during a site dedication celebration Aug. 26.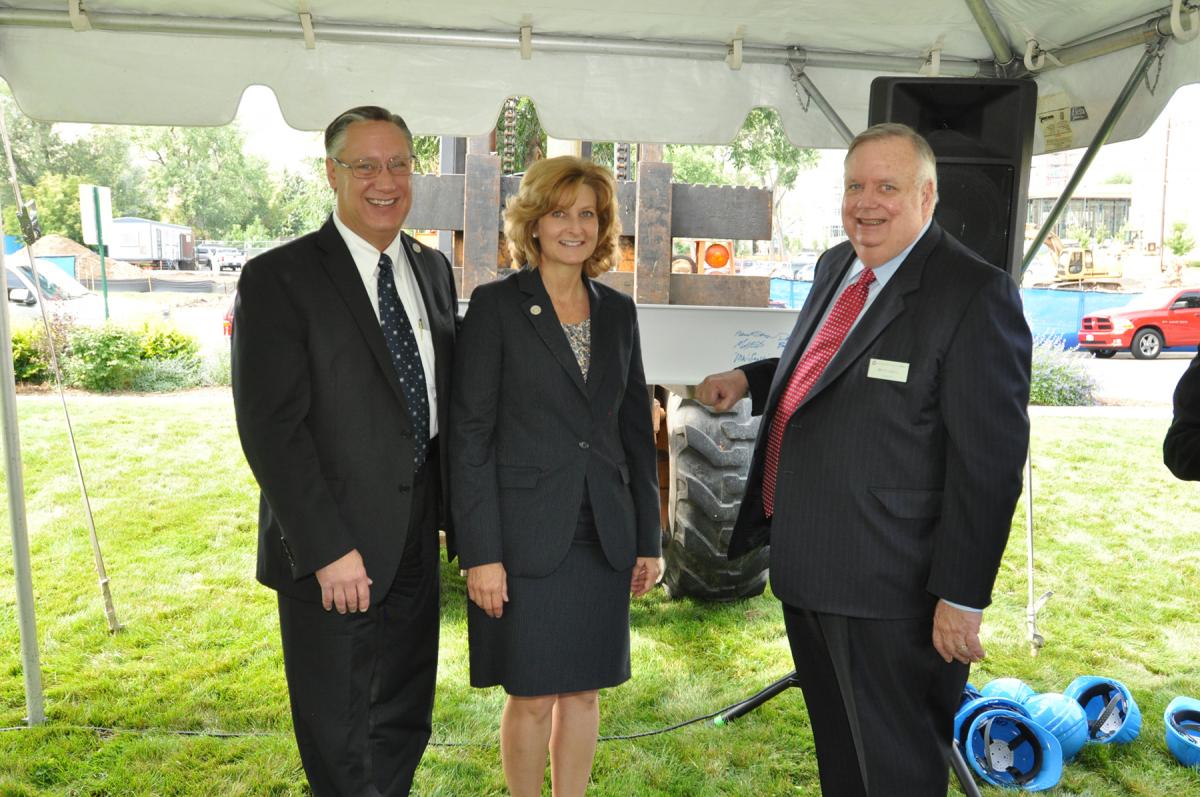 Michael and Patricia Starzer, 1983 Mines graduates, stand with President Bill Scoggins in front of a beam for Mines' new welcome center.
The Starzers credit the university for setting them on the path toward their many personal and professional successes. By helping fund the new Starzer Welcome Center—which will house the Office of Admissions, the CSM Foundation, the CSM Alumni Association, the Office of Diversity and Inclusion, the Office of Public Relations and other campus resources—they are giving back to the university in a way that will impact students, alumni, industry partners and many members of the Mines and Golden communities.  
"We're excited that this new building will provide incoming students and their families with a centralized place to visit as they discover all that Colorado School of Mines has to offer," said Patty Starzer. "It's also going to be a place for alumni and friends to gather on campus to share their memories of this premier institution. Our family will certainly enjoy it, as one of our daughters is a Mines graduate with a master's degree in mechanical engineering; another daughter is here now; and our son-in-law is a Mines graduate with a bachelor's in electrical engineering, and he's currently working on his master's in physics at Mines."
The Starzers also were donors to the construction of Marquez Hall, a state-of-the-art academic building that opened on the Mines campus in 2012. A third-floor room in the facility bears their names. In their two decades of giving to Mines, they have provided support for scholarships, student life and faculty and have volunteered their time and talent as co-chairs of their class reunion committees and chairs of The Parents Fund.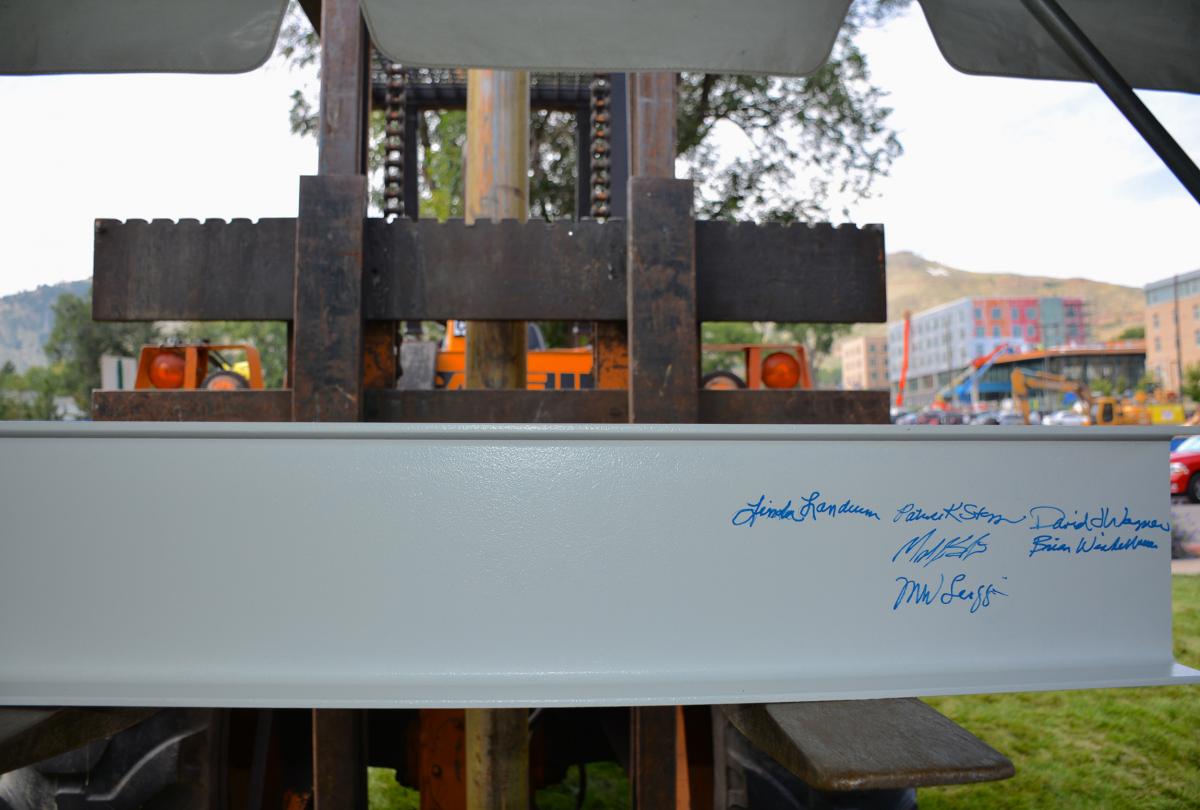 A beam for Mines' new welcome center was signed by dignitaries during a site dedication celebration Aug. 26.
"The Starzers have generously supported Mines in a variety of ways, and we are thrilled to honor them with a namesake building on our campus—our first ever welcome center and the new, official gateway to our beautiful campus. This building will serve as a campus landmark, and visitors will get a real sense of Mines' history, culture and spirit when they walk through its doors," said Colorado School of Mines President Bill Scoggins.
"Since the launch of Transforming Lives: The Campaign for Colorado School of Mines, we have, thanks to donors like the Starzers, broken fundraising records for three consecutive years. This campaign is in full swing, and we couldn't be more excited about all that it will make possible for Mines, including the construction of the Starzer Welcome Center," said Colorado School of Mines Foundation President and Chief Operating Officer Brian Winkelbauer.
Mike Starzer co-founded Bonanza Creek Energy, Inc., a Denver-based independent oil and natural gas company concentrated in the Rocky Mountain and Mid-Continent regions of the U.S. He retired as president and CEO of the company earlier this year.
Contacts
Kathleen Morton, Communications Coordinator / 303-273-3088 / KMorton@mines.edu
Karen Gilbert, Director of Public Relations / 303-273-3541 / KGilbert@mines.edu