Posted: November 20, 2017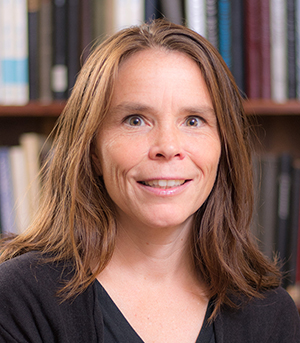 A Colorado School of Mines associate professor has been prominently featured in several scientific and general-interest publications for her research into removing carbon dioxide from the atmosphere.
Jen Wilcox, associate professor of chemical and biological engineering, was quoted extensively in the cover story of the latest issue of The Economist, "What they don't tell you about climate change."
The article details how simply lowering emissions of greenhouse gases is not enough—taking existing CO2 out of the atmosphere is a crucial element in meeting climate targets. Wilcox explained how capturing CO2 from open air, as opposed to directly from exhaust gases, is the technology with the second-highest theoretical potential for reducing emissions.
Unfortunately, the concentration of CO2 in the air is low—0.4 percent—compared to the 10 percent or more in exhaust from power plants and other industrial processes. The costs are much higher as well, according to a review Wilcox contributed to.
Wilcox was also interviewed for an article about carbon capture and storage in the October issue of Nature. She explains that while negative emissions must be part of the solution to climate change, it should not be a replacement for mitigation of CO2.
"At this point, to achieve these targets, which scientists believe are safe, we will need to do everything and now, i.e., increasing renewable penetration, fuel switching, afforestation and preventing deforestation, increased energy efficiency, carbon capture and storage, and negative emissions strategies," Wilcox said.
Wilcox made the same points in an interview with Environmental Research Web published Nov. 9.
"Energetically, it is much more difficult to separate carbon dioxide from the air than from flue gas—in fact, it is on the order of 300 times more difficult," Wilcox said. "However, it will take a portfolio of options to prevent 2°C of warming by 2100, if the indications from climate models are correct."
Wilcox also advocated for giving consumers more options, such as offering fuel made by reacting carbon dioxide extracted from the air with hydrogen derived from renewable sources. "Some consumers may be willing to pay the additional cost compared with conventional gasoline, and I think this could be an interesting space to explore," Wilcox said.
CONTACT
Mark Ramirez, Managing Editor, Communications and Marketing | 303-273-3088 | ramirez@mines.edu
Emilie Rusch, Public Information Specialist, Communications and Marketing | 303-273-3361 | erusch@mines.edu