Posted: July 6, 2012
Historically, Colorado School of Mines has been a leader in energy research and technology development. While that fact holds true, some of today's researchers are forging new frontiers in areas not usually associated with Mines, including biomedicine.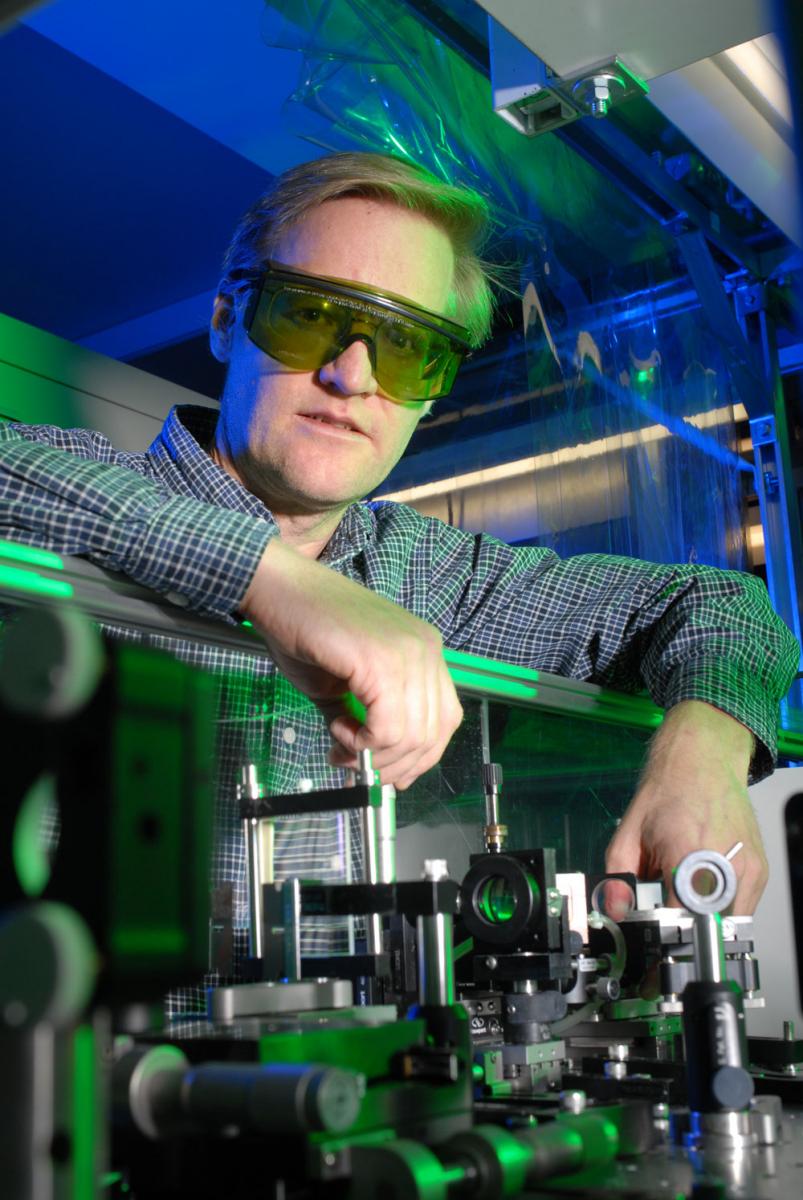 For example, Physics Professor Jeff Squier holds one of the original patents for femtosecond Lasik eye surgery and continues to further advance that technology with a focus on surgeries requiring a high degree of precision with respect to cuts made close to sensitive membranes.
Across campus Will Fleckenstein, an adjunct professor in the Petroleum Engineering Department, is working on improving hydraulic fracturing technologies to increase productivity of natural gas wells.
"The inventions the technology transfer office receives from faculty and students cover a wide breadth and tend to be more applied than most university inventions, which helps facilitate their movement into the marketplace," said Will Vaughan, director of Mines' technology transfer office.  
"We've been working to open several avenues for the commercialization of the inventions while keeping the academic mission first and foremost. There have been some notable successes and we will continue to enhance the entrepreneurial culture as we move forward," he said.
Encouraging entrepreneurship
As part of an initiative to encourage entrepreneurship within the Mines research community, a fund aimed at bringing technology to the commercial marketplace was funded by the Colorado School of Mines Foundation under the leadership of the Foundation Board of Directors Chairman David Wagner.
The Colorado School of Mines Proof of Concept Fund — $350,000 over a three-year period — will allow several research projects to head down the commercial pathway.  The intent is to license the technologies to private companies or serve as the basis for start-up companies.
Chemistry Professor Kent Voorhees' project, "Next Generation Point-of-Need Analyte Detection and Identification using Novel Lateral Flow Capillary Concentration and SERS," is a method for detecting bacteria such as Listeria.
"The original iteration of this technology was patented by Mines and later licensed to Microphage, Inc. for use as a rapid method for detection of methicillin resistant Staphylococcus aureus in hospitals," Voorhees said.
The system is now being distributed internationally as the first phage-based bacterial detection device for clinical MRSA screening and is the only FDA-approved MRSA detection device. It is currently being adopted by some of the largest hospitals in the U.S.
Voorhees said his team has continued to refine the technology and has applied the improvements to detection of various pathogens and bacterial agents of biowarfare including plague, anthrax and food borne E-coli. It also has the potential to target viruses, fungi, hormones and cancer markers.
Hongun Liang, an assistant professor in the George S. Ansell Department of Metallurgical and Materials Engineering, also received funding for his project "Development of Artificial 'Cells' for Anti-Cancer Drug Delivery," a method for delivering a variety of anti-cancer drugs.
Also funded was Adele Tamboli, research assistant professor in the Department of Physics, for her project "Electrochemical Extraction of Sodium from Silicon Clathrates," which examines modifications of structures to store hydrogen and other atoms.
The material, silicon in the clathrate crystal structure, is an exciting topic with the potential for a lot of renewable energy applications. Researchers at Mines are among only a few groups synthesizing this material.
"This project is a patentable component of the research that could enable a number of renewable energy applications, such as hydrogen storage materials and photovoltaics, that could form the basis of start-up companies," said Tamboli.  
Entrepreneurial experience for undergrads
Entrepreneurship at Mines extends beyond the faculty research corridors. Graduate courses focused on the subject have been offered for several years through the Division of Economics and Business Engineering and Technology Management Program, but as of fall semester 2011, undergraduate students also are learning what is involved in taking an idea to the marketplace.
"What better place than Mines?" Joy Godesiabois, a teaching associate professor in the Division of Economics and Business, remembered thinking when setting out to teach the university's first undergraduate class focused on entrepreneurship.
Godesiabois taught a similar course at another Colorado university, where students brainstormed ideas for T-shirt stores, heli-skiing businesses and bars — but at Mines, students were talking about developing different tools to detect blood sugar levels for diabetics and selling used oil drilling equipment to third world countries.
"I was blown away," she said. "These students are so creative; they get such amazing training in their individual areas here at Mines. They come into entrepreneurship class with ideas that can be game changers."
The entrepreneurship class gives students a different viewpoint, a different way to look at a problem. Not only are students learning leadership skills and gaining self-confidence, they are forced to face a problem that doesn't have one correct answer — there is no formula.
"When comparing the students on the first day of class with the last day of class, you can see the changes in how they are thinking about things," she said.
They learn management skills, how to work independently, how to work and function within a group and how to develop a financial plan. Going into the business world after graduation versed in risk and profitability gives engineering students an edge in talking with management in business terms, Godesiabois said.
Students were so enthusiastic about the class, they started an Entrepreneurship Club. The club works as a networking tool for the students as well as a practice vehicle for what they are learning in class.
This article appears in the 2012-13 issue of Energy and the Earth magazine.