Posted: August 2, 2016
Two solar panels have been installed at the Geology Museum, providing power to the Critical Materials Institute exhibit inside and proving the importance of the materials that the exhibit highlights.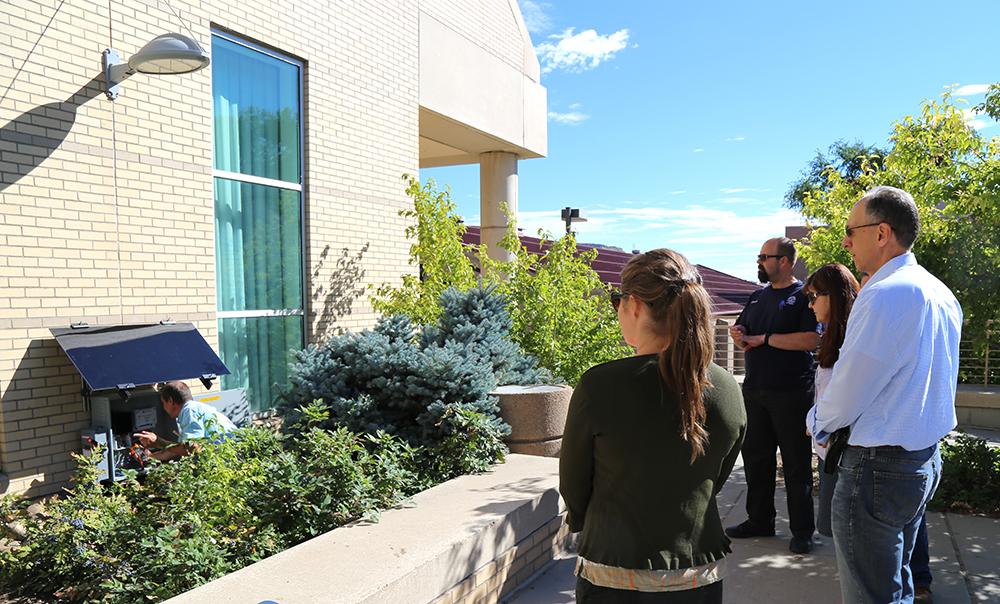 "The solar panels demonstrate how critical materials such as telluride are important to new advanced energy technologies," said Cynthia Howell, research faculty and energy education specialist for CMI and the Colorado Energy Research Institute.
The setup passed its official state inspection on Friday, July 29, and now powers a video demonstrating the importance of certain mined elements, as well as a phosphor viewing box.
The idea for the critical materials exhibit arose about a year and a half ago in discussions between Howell and museum Director Bruce Geller. Mandi Hutchinson, then a master's student in geology and now research faculty, led the assembly of the exhibit, which opened in February 2015 with the solar panels still waiting in the wings.
Troy Wanek, a solar energy expert and a member of the energy technology faculty at Red Rocks Community College, was recruited to install the panels. He also provided a behind-the-scenes presentation alongside fellow RRCC faculty member Tim Kjensrud, turning the project into an educational partnership.
Capital Planning and Construction and Facilities Management inspected the solar panel installation on July 22.
The Critical Materials Institute at Mines is a Department of Energy Research Innovation Hub. Its focus is developing technologies that assure the supply of materials critical to advanced energy technologies such as solar cells and wind turbines. Rare-earth elements have essential roles in high-efficiency motors and advanced lighting, but such metals and alloys are not manufactured in the United States, making innovations in the supply chain vital.
Contact:
Mark Ramirez, Communications Manager, College of Applied Science & Engineering | 303-383-2622 | ramirez@mines.edu
Kathleen Morton, Digital Media and Communications Manager, Colorado School of Mines | 303-273-3088 | kmorton@mines.edu