Posted: January 11, 2018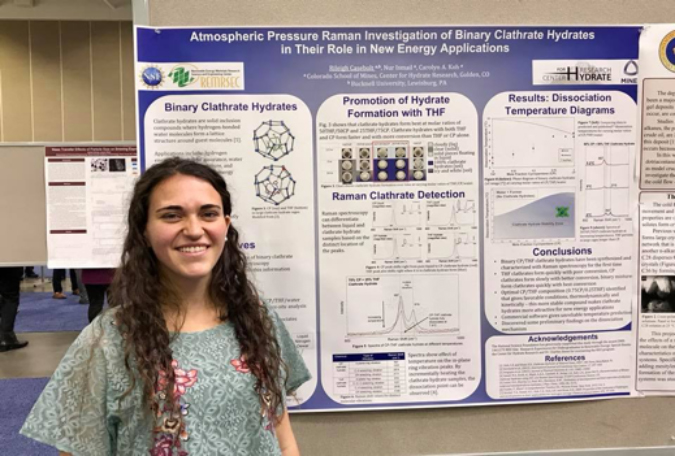 A chemical engineering student won the poster competition at the 2017 American Institute of Chemical Engineers annual student conference for work based on research she conducted with Colorado School of Mines faculty and graduate students.
Rileigh Casebolt, a senior at Bucknell University, took part in the Research Experiences for Undergraduates program organized by the Renewable Energy Materials Research Science and Engineering Center in 2017. She conducted research under Carolyn Koh, professor of chemical and biological engineering, and graduate student Mimi Israil.
Casebolt's winning poster was titled "Atmospheric Pressure Raman Investigation of Binary Clathrate Hydrates in Their Role in New Energy Applications." Casebolt also received the Best Poster Oral Presentation Award during the REU program, which is organized by Physics Teaching Professor Chuck Stone.
"Thanks to the REMRSEC REU program at Colorado School of Mines, I had the opportunity to do meaningful and interesting work on binary clathrate hydrates," Casebolt said. "I think that it is so easy for me to talk about my research from the 2017 REU program because I really enjoyed what I was doing and I learned so much while I was there."
"My REU experience just further confirmed my interest in pursuing renewable energy research, and I am so thankful," Casebolt said. 
CONTACT
Mark Ramirez, Managing Editor, Communications and Marketing | 303-273-3088 | ramirez@mines.edu
Emilie Rusch, Public Information Specialist, Communications and Marketing | 303-273-3361 | erusch@mines.edu