Posted: May 30, 2019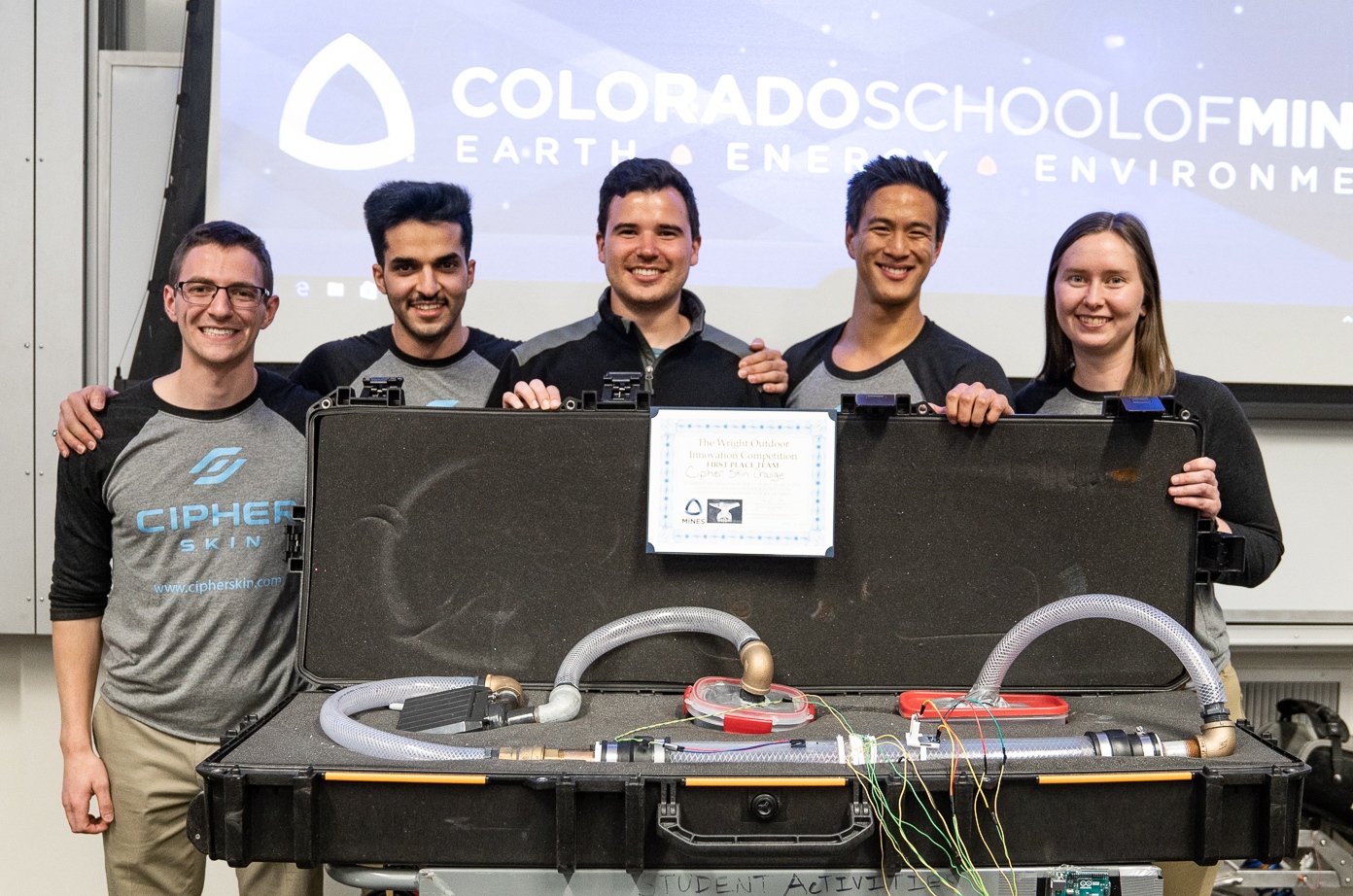 The Mines students behind
Cipher Skin Orange
received the first prize of $5,000 for their prototype, developed in partnership with Denver data analytics startup Cipher Skin.
Sponsored by The Wright, an initiative of Something Independent, the non-traditional collegiate innovation competition was designed to bring together problem-solving minds from a variety of backgrounds (from engineering and hard sciences to economics, business and policy) to address pressing needs within the outdoor recreation industry. 
Students had the opportunity to learn about the unique challenges facing the industry in three areas – sustainability, conservation and stewardship; innovative technologies and materials; and accessibility, health and wellness – engage with mentors with deep industry experience and pitch their ideas in a tournament format for a shot at cash and prizes.
"Innovation comes in all shapes and sizes. Bringing together diverse perspectives in a collaborative environment can lead to the kinds of unexpected partnerships key to unlocking new ideas," said Chuck Sullivan, a founder of Something Independent. "Mines students brought a natural enthusiasm to the table that was matched only by the excitement of the companies and organizations presenting challenges. The outdoors has a way of drawing out the best in people, and we saw just that from the students and faculty alike. We're grateful for our partnership with the Mines community and blown away by the work presented by the student teams." 
Outfitted with sensors to measure temperature stream, acoustics and acceleration, Cipher Skin Orange's winning mesh sleeve was designed to fit over actual pipelines in the field, said team member James Bloomfield '17 MS '19, who graduated in May with a master's degree in
engineering and technology management.
"Each of those sensors track a different metric and essentially, you would put it on a pipeline you think might fail," Bloomfield said. "Given there is some sort of corrosion eating away at the pipeline or ground shifting in those failures you see on the news, ideally, you should be able to pick up those changes in fluid flow with one of those sensors or a combination of them and be able to predict whether a pipeline will fail before its fails – the current passive technology can't pinpoint failure and requires finding leaks in person after the fact."
There are multiple benefits of that early detection, said teammate and fellow ETM graduate Lauren Harrison '18 MS '19.
"One of the major benefits is environmental, which was our emphasis in this competition. Being able to predict a leak before it happens means you can prevent that huge oil spill that has all these negative effects on the environment," Harrison said. "There are also financial benefits – it's cheaper for companies if they don't have to clean up a big spill and can catch it before it happens."
Rounding out the winning team were ETM graduate Elias Petsalis '18 MS '19; current ETM master's student Daniel Liu '19; and mechanical engineering graduate Asim Alrebdi MS '19.
"As a Denver-based company, we want to be an active participant in the wider community, especially in the academic community. When Dr. Sid Saleh presented the opportunity to work with the School of Mines, we knew that we were going to be a part of something special," said Dr. Shaka Bahadu, head of operations and chief medical officer of Cipher Skin. "We were very impressed with the students' applications of our technology. In fact, we plan on using some of their ideas and continuing the work in-house."
Second place in The Wright Challenge and $3,000 went to High Rollers, for their "hot-and-cold" foam roller for high-performance fitness recovery tool maker Recoup Fitness. 
Third place went to 5280 Sheep and Cipher Skin Blue, with each team winning $1,000. 5280 worked with advanced materials recycler Vartega Inc. on a recycled carbon fiber helmet, while Cipher Skin Blue partnered with Cipher Skin on wearable biometric technology for the rehabilitation market.
A total of ten challenges were presented by companies and organizations including Golden-based Icelantic Skis, Colorado Mountain Club, Vartega and Mines' Human Centered Design Studio. 
Judging the competition were Kristi Pollard, CEO of Jefferson County Economic Development Corp; Samantha Albert, operations manager of the Colorado Outdoor Recreation Industry Office; Alex Lemley, marketing communications manager of the Outdoor Industry Association (OIA); Mae Harris, national sales director of Optic Nerve Eyewear & 2019 OIA Skip Yowell Future Leadership Academy Fellow; and Jay Zeschin, co-founder of Denver Startup Week.
Supporting partners of The Wright Outdoor Innovation Challenge included Colorado Outdoor Recreation Industry Office and Jefferson County Economic Development Corporation.  
"Outdoor recreation is a fast-growing industry cluster and important economic contributor in Jefferson County," Pollard said. "The Wright Challenge was a unique and exciting opportunity to introduce talented Colorado School of Mines students to the work being done in the outdoor sector while providing the opportunity to engage alongside nationally recognized industry leaders. It is this type of hands-on, collaborative initiative that strengthens our innovation and workforce pipelines." 
CONTACT
Emilie Rusch, Public Information Specialist, Communications and Marketing | 303-273-3361 | 
erusch@mines.edu
Ashley Spurgeon, Editor, 
Mines
Magazine
 | 303-273-3959 | 
aspurgeon@mines.edu