Posted: October 14, 2016
Robert G.W. Brown urged the students packed into Metals Hall for his talk to make change a regular part of their research career, a principle he has clearly followed in his path from fundamental physics to high-impact applications and, most recently, leading the American Institute of Physics as CEO.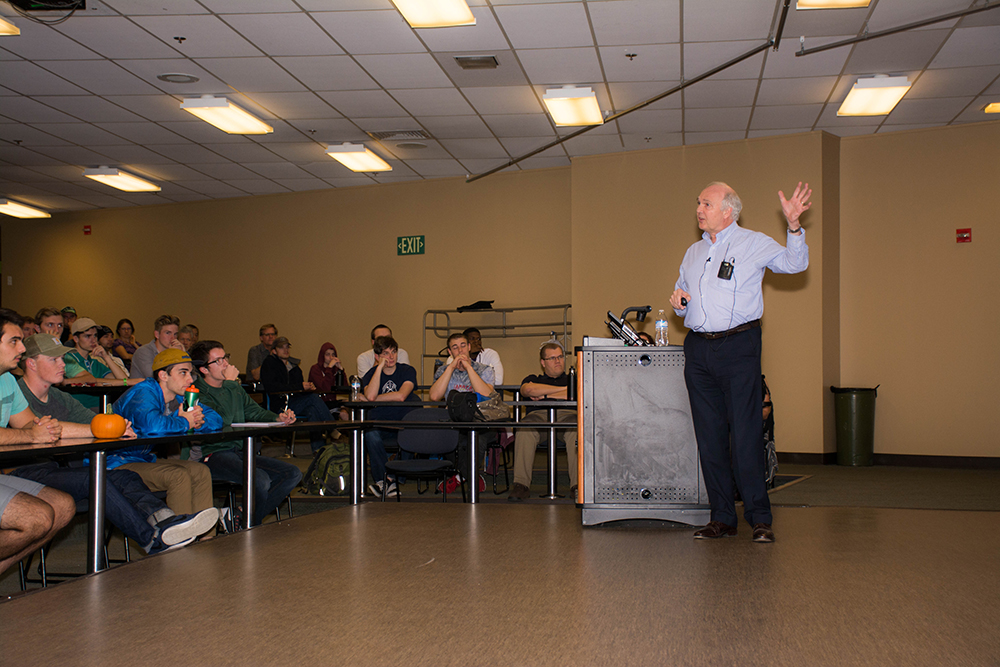 "We all get a bit stale," Brown said. "It becomes a bit routine; we can get lazy." And so every five to seven years, he has found it very helpful to make a significant change in the direction of his research.
After graduating from the University of London in 1973 with a bachelor's degree in physics, Brown was "thrown into the deep end of quantum optics and quantum mechanics in a way that I'd never seen it before," he said. One of his first projects involved shining pairs of lasers into high-velocity wind tunnels to measure the effects of wind on missiles and "other interesting objects."
Brown was there at the dawn of microprocessors in the late 1970s, working with machines that can now be found in museums. He was part of a team contracted by Rolls Royce to help reduce the noise from its jet engines. "As the youngest member, my job was to climb up this ladder and go adjust the optics while the engine was running," Brown said as he showed a photo of an engine at least two stories high.
In the early 1980s, Brown conducted top-secret research at the David Taylor Research Center in Maryland, using the ability to detect single photos to determine what information submarines were unwittingly dumping into the ocean, allowing it to be detected by the enemy.
Brown also delved into medical applications of quantum optics, such as the use of lasers for early detection of cancer, which only recently has approached viability for widespread use. In the 1990s, Brown also worked directly on the corporate side of things, working for Sharp to develop liquid crystal displays. He cited one of his "failures" from that era, when his team's efforts to develop blue laser light for what would eventually become Blu-ray technology did not come to fruition.
These days, as head of AIP—a federation of 10 physical science societies—Brown spends a lot of time on Capitol Hill, meeting with members of Congress and their staff every week to talk about the opportunities in physics today, such as rebuilding the United States' competitive advantage in manufacturing.
Brown's talk, titled "My Life in Light in Nanotech," was just part of his multiday to Mines, organized by Physics Teaching Professor Chuck Stone. He also presented a physics colloquium titled "Novel Nano-sensors for Improved Airplane Safety," and in between met with Mines administration, physics faculty and students.
"I am singularly impressed," Brown said. "I have met some outstanding people and seen the extraordinary work that is being done here. It is a mighty impressive place and a mighty impressive physics department."
Contact:
Mark Ramirez, Communications Manager, College of Applied Science & Engineering | 303-384-2622 | ramirez@mines.edu
Agata Bogucka, Communications Manager, College of Earth Resource Sciences & Engineering | 303-384-2657 | abogucka@mines.edu